More support for Port Glaud primary from Indian association
19-December-2012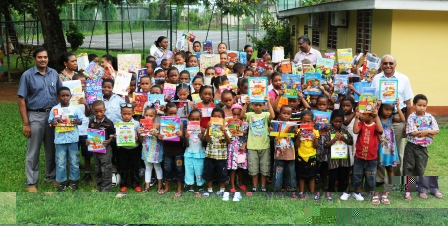 This donation comes from the Indian Association of Seychelles as part of a one-year project under its school adoption programme.
The total cost of the project is over R150,000 and in addition to that the association will be sponsoring all the students a school bag for the new term in January 2013.
A special ceremony was held at the district's community centre recently to hand over the donation and reward students who have excelled in various subjects and activities throughout the year.
Prizes were given for best effort, behaviour, Australian Maths competition, sports and the various subjects.
All prizes were sponsored by the Indian Association of Seychelles headed by Vijay Patel who was present at the ceremony along with other members.
Others were the district's administrator Maisy Port-Louis, the school's head Shirley Hoareau, teachers and staff, students and parents.
Teachers who have worked hard and whose classes have excelled throughout the year were also rewarded.
The school has also received a cooker, dining utensils, sewing machine among other donated items.
During the ceremony Jefferson Andre and Federica Germain were awarded as being the school's overall best performers.