Anse Royale hospital gets wheelchairs and blood monitors
19-December-2012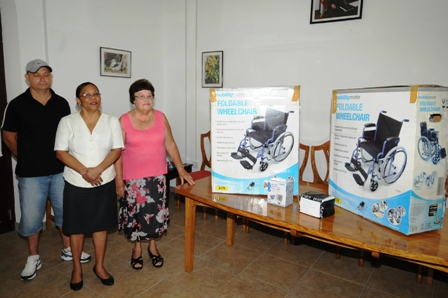 It was Jason's mother, Elienia Mondon, who made the donation to Thelma Reginald, nurse manager of the Anse Royale hospital, at the health principal secretary's office, Red Roof building at Mont Fleuri on Monday.
This was in the presence of Sandra Crewe, deputising for principal secretary Veronique Laporte, health commissioner Jude Gédéon and several other top health officials.
Ms Mondon said Jason, who grew up at Anse Royale before going to Australia for university studies and settling there, has always held Anse Royale very close to his heart. She said Jason will be visiting the district hospital the next time he comes to what he still considers to be his home.
Ms Reginald said she is sure the "Christmas gift" would be beneficial to patients who will find the wheelchairs comfortable.
She also noted that Jason's father, Augustin Mondon, has always been a good friend of the Anse Royale hospital, often turning up with gifts of fruits and vegetables.
The wheelchairs can take patients of up to 130kg, while the blood pressure monitors will be useful to assess patients with a propensity for heart ailments.