20,000 Tree Campaign-We've reached 10,000: Big thank you!
24-December-2012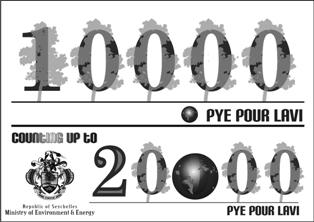 Environment and Energy Minister, Professor Rolph Payet and the coordinating committee have thanked everyone who have contributed towards the planting of the 10,000 trees.
"Your efforts and contributions have been greatly appreciated and we look forward towards the 2013 challenge," writes a communiqué from the Ministry of Environment and Energy.
Prof. Payet himself planted the 10,000th tree during an event organised for the youths as part of activities for this year's Youth Festival.
The challenge to plant 20,000 trees was launched by President James Michel in 2011 following an official visit of the Président du Conseil Régional de La Réunion Didier Robert. The main aim of the campaign is to contribute towards global effort to mitigate climate change by planting more trees to absorb carbon dioxide in the air.
The trees will also help us locally to adapt to climate change by minimising the impact of climate change on our local environment and natural resources such as water supply. This is necessary because scientists believe that island nations are the most vulnerable to climate change.
So instead of waiting for the world to agree on what actions are required to mitigate climate change, Seychelles is leading the way in being pro-active.
To meet this target the Ministry of Environment and Energy was given the responsibility of coordinating the challenge. In an effort to upscale the coordination, a national committee was created and a number of organisations were invited to contribute towards achieving this goal.
Representatives from the Ministry of Social Affairs, Community Development and Sport, Ministry of Education, Ministry of Labour and Human Resources Development, plant conservation group, Seychelles Tourism Board, Botanical Garden Foundation, National Parks Authority, Landscape and Waste Management Agency, Seychelles Agricultural Agency (SAA), Island Development Company (IDC), Wildlife Club of Seychelles were delegated to the committee.
Special mention goes to Four Seasons, Seychelles Agriculture and Horticulture Training Centre, Airtel, Seychelles Breweries, Berjaya Beau Ballon Bay, Le Mériden Barbarons and the Ministry of Land Use and Habit who were not part of the committee but who in one way have helped us to achieve our target.
The communiqué adds that although 2012 has proved to be a difficult year in view of the prolonged and severe drought period which greatly hampered all efforts to achieve the target, the team were able to plant over 10 000 trees.