41st annual conference of the International Association of School Libraries-Marie-Annette Lawen and Geraine Antat represent Seychelles
26-December-2012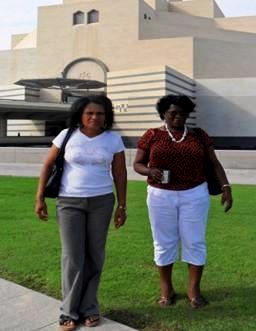 The conference also incorporated the 16th International Forum in School Librarianship.

Lawen and Antat are the first Seychellois librarians to attend the conference under the theme 'The Shifting Sand of School Librarianship'.
As there are many changes in the aspects of education around the world, the conference focused on these changes and what they mean for school librarians.
Among the topics discussed were how do school librarians keep abreast of the development of new technology and how can librarians make the library friendlier and more interesting for its users.
The development of professional learning network was also emphasised on.
On the whole, schools and libraries must reconsider even the basic assumptions concerning learning goals, methods and environments.
A regional meeting was also held and the delegates from Africa have created their own directory so that they can develop networking in that particular region.
The participants also visited the National Library, the Museum and school libraries in Doha.
The next conference will be held in Bali, Indonesia in 2013.