Child minders trained to deliver better service
29-December-2012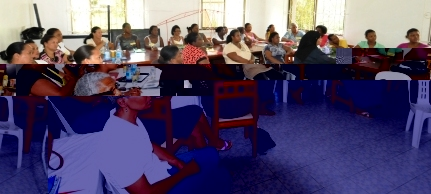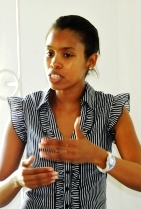 The session for child minders from the south and west regions

This follows a series of training for this group of people which started in July this year and ended in November.
The Ministry of Health organised these series of workshops for child minders on both Mahe and Praslin as part of its effort to contribute and strengthen early child care and education.
The first of these workshops was held on Saturday July 14 at the Seychelles Hospital, while that on Praslin took place on Saturday July 21 at the Grand Anse Praslin community centre. This was followed by one targeting child minders from the north region and which took place at the English River Health Centre.
The last in the series for this year was held on Saturday November 24 at the Anse Royale community centre and targeting child minders from the south and west regions.
Child minders are a special group of people since they are contributing to the growth and development of children during the most critical years of their life -- from 0-3 years.
However their needs are not fully enhanced in terms of supervision and skills development.
With the emphasis on early childhood care and education, the workshop organisers felt it was appropriate therefore to recognise and promote the significant contribution that they are making towards the wellbeing of the Seychellois children.
These workshops were aimed at equipping child minders with the required knowledge and skills to better discharge their responsibilities and help create a conducive environment where children will feel safe, loved and well cared for.
Another aim is to also contribute to reassuring parents who use such facilities that their children are in capable and trustworthy hands.