St Anne resort brings festive season cheer to Plaisance elderly
31-December-2012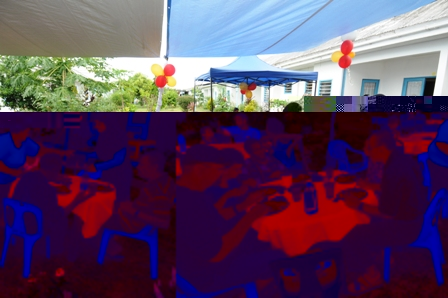 Apart from the food, there was also live entertainment by the Leko band, which kept everyone well in the mood for what turned out to be an afternoon of fun.
The management of the home said it had approached the resort and asked it to host either a Christmas or New Year lunch for the residents. The event was held on Saturday.
The chairman of the board of trustees Gerard Edmond told Seychelles Nation that some of the residents do not necessarily get visited by relatives, so the resort staff turning up to spend the afternoon with the residents was well appreciated.
"In the past we have been assisted by various companies, and this is the first time that we undertake such a venture with the Sainte Anne Resort & Spa, but we will definitely keep the partnership going," he said.
"We have already started talks about the possibility of getting the resort's help in taking the residents for a trip to Ste Anne island, and we are convinced that it will materialise next year."
The senior human resource officer from the resort Wilna Sophie said they will continue to support the home, and the trip to Ste Anne island will definitely take place next year.
"We were in fact planning to have this lunch on Ste Anne, with the residents touring the island afterwards, but with the resort at full capacity, it was not possible to do it at this time, but we pledge to do this activity in 2013," she said.
After lunch the residents were able to enjoy live music from the band, while those more able showed off their dance skills.