Work to connect wind farm to grid on track -- PUC
31-December-2012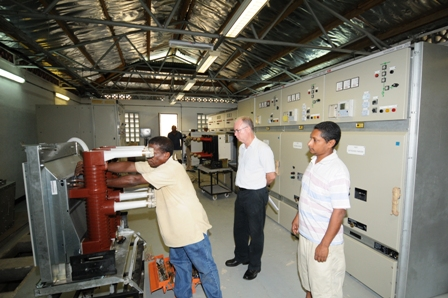 This was said by the chief executive of the Public Utilities Corporation (PUC) Philippe Morin yesterday morning, as electricity supplies were cut off in some parts of Mahe so that the work could take place.
Speaking to the media in the morning, he said that as early as 7am they had cut off electricity supply to the northern part of Mahe. With Victoria also set to be disconnected, Mr Morin said they did not need to cut off the whole town and a large part of it still had power during the process.
"The majority of the work we are doing today (Sunday) is to ensure that the correct cables and switches are in position, and all this has to be done with no live electricity since those cables and equipment we are working with are carrying up to 33,000 volts, which can be quite dangerous," he said.
"As from this week, we will start testing the equipment which leads to the wind farm. Our target is that in one week, we should be in a position to do a live test," added Mr Morin.
He explained that some of the equipment such as circuit-breakers are as old as 12 years and the work currently being done includes putting in a new and more modern one, and he said they expect to take half a day to complete all the connections.