Eco-friendly relay marathon-New event to launch 2013 calendar
03-January-2013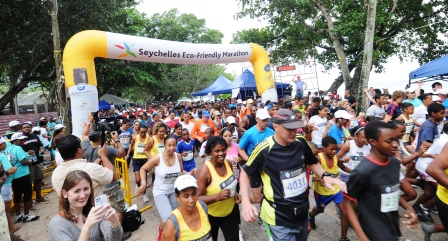 The newly introduced Eco-friendly relay marathon will take place on February 27, launching the 2013 series.
Apart from being a new event, the marathon relay will also serve as preparation for those who will be taking part in the Eco-friendly marathon.
All teams taking part should be made up of six members – male and female separate – who will run 5km, 10km, 5km, 10km, 5km and 7.195km respectively.
The race will start at 7am at the Beau Vallon Regatta site and will cover the same route as that of the Eco-friendly marathon.
Members will be placed at takeover zone which is 20m – 10m before and 10m after the scratch line – by members of management of the competition.
Drinking water stations will be placed along the route, practically every 2.5km, while transport will not be allowed to accompany athletes while running.
All teams must arrive at least 20 minutes before the start of the race and the registration fee is R200 per team.
The winning team will receive R3,000, while the runners-up team will pocket R2,000. The third-placed team will receive R1,000.
Meanwhile, the annual Eco-Friendly marathon held every last Sunday of February will this year take place on February 24, starting at 7am at Beau Vallon.
There will be the marathon, half-marathon, 10km, 5km and 10km walking.
From Beau Vallon, the course for the marathon will be – Bel-Ombre, Beau Vallon, Glacis, Machabée, North East Point, Anse Etoile, La Bastille, English River, 5th June Avenue, Bois de Rose, turn opposite Géant Casino, Francis Rachel street, Clock Tower, Independence Avenue, 5th June and back to Beau Vallon via Anse Etoile and Glacis.
The registration fees for locals are R200 for marathon, R100 for half-marathon, R50 for 10km, and R25 for 5km and 10km walking.
For foreigners, the registration fees are €45 for marathon, €30 for half-marathon, €20 for 10km, €10 for 5km and €5 10km walking.
Race organisers reserve the right to accept or reject any race entry and at any time to issue special invitations, while entries will not be accepted for marathon by competitors younger than 18 years on race day.
For the half-marathon competitors must be at least 16 years on race day, while competitors in the 10km race must not be younger than 12 years old on race day.
The deadline for registration is January 31 for overseas runners and February 15 for locals.
Entries from outside Seychelles must be sent through e-mails – This email address is being protected from spambots. You need JavaScript enabled to view it. or This email address is being protected from spambots. You need JavaScript enabled to view it. , while locals can register in person at the National Sports Council or through e-mail This email address is being protected from spambots. You need JavaScript enabled to view it. .
All those who complete the race will receive the finishers' medals, T-shirts and certificates.
For further enquiries or information, please contact the race committee at the NSC on +248 4671208 or +248 2722333.
They can also visit the website: www.seychelles-marathon.com/english.
R. D.