'We must be a step ahead in the fight against piracy'-British high commissioner Lindsay Skoll visits French frigate Surcouf
04-January-2013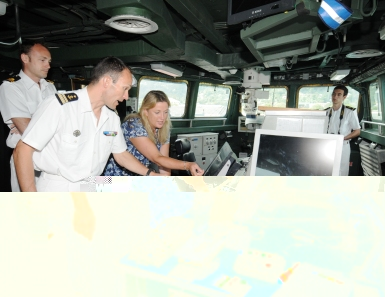 British high commissioner Lindsay Skoll said this on Thursday morning in response to remarks that successful pirate attacks have dropped drastically.
She was speaking after touring the French frigate Surcouf which is part of the Atalanta mission against the act of piracy in the Indian Ocean region.
There were just five successful pirate attacks in 2012 compared to 46 in 2009. There are also just four vessels and just over 100 crew members still being held captive in Somalia.
Ms Skoll said that piracy is adaptable and we must remain wary of new modes of attack.
"The less successful the pirates are now, they are more desperate and dangerous than they can be," said Ms Skoll.
She added that for instance, the likelihood that pirates can get caught prompts them to use more juveniles.
"This is because they know that juveniles, if caught, stand a good chance of being treated more leniently."
Pirates are now known to be using the weather to their advantage. In some cases, they allow themselves to drift far out of the reach of the monsoons in a desperate bid to prey on unwary shipping.
Ms Skoll said that recently pirates have realised that they are up against opponents with a hard nose and as in the case of Seychelles, can show a firm response.
She also said that though we are getting rid of the symptoms, the piracy threat will remain as long as instability persists in Somalia.
On the issue of convicted pirates transferred to Puntland and other autonomous provinces of Somalia to serve their sentences, she said that every precaution is taken to ensure such sentences are served in full.

Ms Skoll explained that this is carefully monitored by the UNODC (United Nations Organisation against Drugs and Crime), which carries out regular inspections. UNODC has recently built prisons to accommodate convicted pirates in Seychelles and Puntland.
During her tour of the Surcouf, Ms Skoll also met flight commander Lieutenant Mike Curd and his group of 12 pilots and technicians operating a Royal Navy helicopter based on the ship.
The Panther helicopter has a range of 100 kilometres for patrol, but the zone of detection is extended through the use of radar on board.
Surcouf captain Hugues Laine said the presence of the British helicopter is a good example of integration.
He said that the French and British marines get on very well.
Captain Laine said that besides the fact that they are from forces within the European Union, they are happy to be together on a military mission to defend countries that are more vulnerable.
"And of course, now they are all happy to be in Seychelles, a country where both English and French are spoken."