Community urged to help Les Mamelles disaster victims
06-January-2013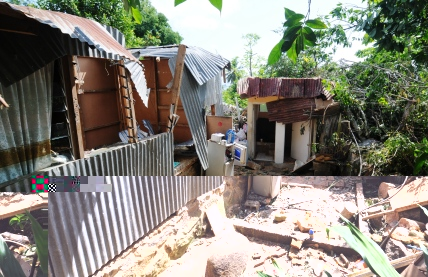 The incident happened at around 2pm on Monday when the whole family of 11 was in the house and miraculously, no one was seriously injured.
According to house owner Jacqueline Charles, who is a child minder, they did not hear anything prior to the smashing sound of the caoutchouc and coconut trees, leaving some members of the family trapped in the house built with corrugated iron sheet and wood.
Following the rapid intervention of the Fire and Rescue Services Agency, five members of the family were treated for shock and later released, while one received three stitches following a minor cut on the back.
Les Mamelles district administrator Doris Kiwale said the victims are being sheltered by family members, while she is liaising with the Ministry of Social Affairs, Community Development and Sports, and the Ministry of Land Use and Housing to rebuild the house.
She added that the DA's office is also helping the family with their basic needs, including food and clothing.
Mrs Kiwale is also urging anyone who can to help the family as all their belongings were destroyed during the accident and also by the rain on that day.
All those wishing to help can contact the DA's office on 4345164.