Top hotel suffers only minor damage from fire
06-January-2013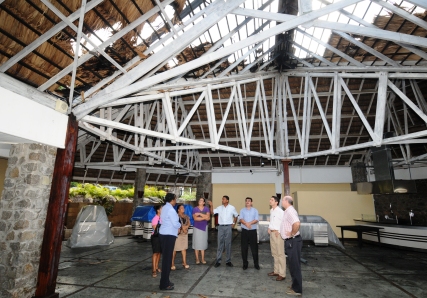 Its general manager Mathieu De Tonnac said fire fighters arrived only 10 minutes after it started at 7.30pm in the hotel restaurant's thatched roof, during which guests calmly evacuated as staff and members of the community used extinguishers to put it out.
Fire fighter Jones Madeleine told Nation "we have evidence an electrical fault may have been the cause but at this moment we cannot release any further details as investigations are ongoing".
"It took us 30 minutes to completely put out the fire," he said.
Mr De Tonnac said only guests from 10 of its 58 occupied rooms opted to be relocated, "but most of them came back when they realised everything was under control".
"None of our hotel guests, associates or other persons were injured.

Currently, the affected restaurant is closed but all other areas of the hotel are fully operational ," he said, noting arrangements were being made to offer restaurant services at another venue in the hotel, while "Le Bourgeois' restaurant and all other food and beverage outlets are operational".
Tourism and Culture Minister Alain St Ange thanked the staff, volunteers and the fire fighters, all of whom he said worked together to save "one of the prime properties in the country".
He said members of the community also helped control movement of people, keeping out those who did not need to enter the premises during the short-lived fire.
He was accompanied by top community development officials and the chairman of the Seychelles Tourism Board Barry Faure, whom Mr De Tonnac thanked for supporting the hotel especially in responding to enquiries.
Mr St Ange said the fire should not discourage builders from using thatch for roofs because being local materials they give our hotels their authenticity, "and there are many modern ways of boosting safety, for example the use of sprinklers.
Observers said the thatch was still moist from showers that had fallen not long before, and that helped limit the extent to which the fire spread.
Most of the roof members were still intact and looked strong.