Management institute handed over to UniSey -• Becomes School of Business Management
07-January-2013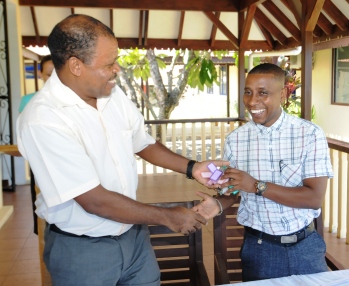 An official hand-over ceremony was held on Friday at the institution's premises at Majoie, attended by UniSey pro-chancellor Professor Rolph Payet, vice-chancellor Marina Confait, SIM board members and staff, among others.
A representative of the SIM board and the Ministry of Education, Christian Cafrine, addressed the guests and said that during its 34 years of existence, SIM's most remarkable legacy is the significant contribution it has made towards human resources development in Seychelles.
"We are optimistic that there are better days and more accomplishments ahead, for UniSey will be able to provide a wider range of courses – both of academic or professional nature – that are more aligned to the needs of our country," he said.

"SIM has played an important role in leadership development and we hope that under this new management the momentum for leadership development will be sustained.
This new structure will allow for optimal use of resources, reduce duplications of assets, provide a clear pathway for graduate and post-graduate courses, serve to build long-term institutional capacity for research and enhance the credibility of UniSey by reducing competition for international partnerships with other higher education institutions."
Several signings ensued, where the SIM was signed over to the government of Seychelles, represented by principal secretary for finance, trade and investment Steve Fanny, and SIM board member Michael Benstrong.
The institution was then signed over from the government to the UniSey, represented again by PS Fanny and the UniSey registrar Michel Denousse.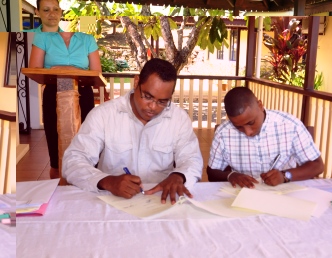 Addressing the guests, Professor Payet spoke of some of the more significant benefits of the merger.
"Since government provides significant financial support to both organisations, rationalisation of resources and achieving efficiency gains in a time of economic austerity will ultimately result in more resources being available for education rather than on supporting administrative overheads and duplication of assets," he said.
"The institutional knowledge of SIM acquired over 34 years will benefit the further development and expansion of the University of Seychelles, an institution established in 2009 to provide tertiary education in Seychelles.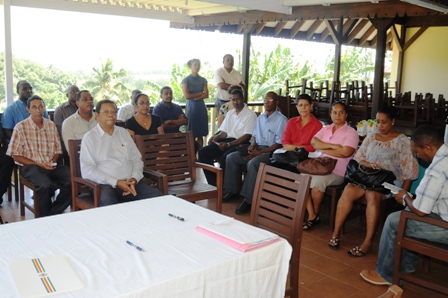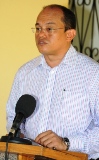 The merger will also provide accredited qualifications, a clear pathway for undergraduates and post graduate courses, and also consolidate professional development in Seychelles."
He explained that both SIM and UniSey depend on a lot of part-time staff which, while has its benefits, does not serve to build long-term institutional and research capacity.

"Such an approach can lead to fragmentation in programme development and lack of consistency in research. Part-time staff are also more expensive but devoid the institution of corporate culture and university life in the long-term," he said.
"Offer of IT and library facilities are duplicated in both institutions, the merger will enable harmonisation and sharing of these resources.
Library resources do not need to be duplicated, and access to online international journal subscriptions can be optimised.''