New computerised system to better manage medicine stocks
07-January-2013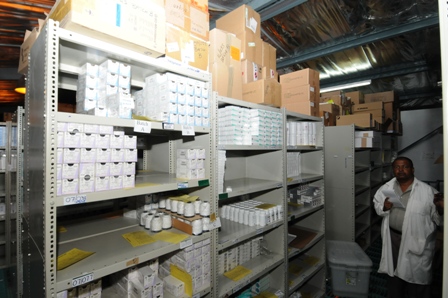 The new system aims to provide more precise information relating to medicine and other pharmaceutical stocks available in store, including quantity, shelf life and other relevant information such as order.

Apart from ensuring better efficiency of pharmaceuticals, the new system will also ensure that no medication and other medical material expire and guarantee that the store's stock is always up to date.
Health principal secretary Veronique Laporte said the way the store is being run at present makes it quite difficult for the store personnel, despite all their experience, to keep precise count of all the medication and other things in the store.

She noted that up till now store register, monitoring and management are done manually.

Ms Laporte further added that improper monitoring of stock has led to instances where medicine and other material have expired and in other instances when certain medicine or other supplies have abruptly run out of stock, it has caused lots of inconveniences, wastage, shortages of supplies in pharmacies and financial losses for the health ministry.
She said this has to stop and the store management programme which is being introduced will address these shortcomings.
"A new year calls for new attitude, new way of doing things and a new approach to work,'' Ms Laporte stressed.
She also noted that the software is very user friendly and will also ensure data collected relating to certain medications are communicated to heads of pharmacies in different health centres.
The software is being installed by a local company and at present store manager Bernard Solomon and his team of 12 are carrying out an update of everything in the store and a stock taking proper is expected to start this week where all data will be uploaded into the new system.
Ms Laporte is hopeful the system will be in operation by the end of January and said training for the store personnel is also being organised by the supplier.
Ms Laporte stressed that the health ministry is working with the department of information communication and technology on its health information system where all information relating to the ministry will be put online.
She said this is a big project which will be carried out in phases.