Miss Seychelles receives photo panels from Jj Spirit Foundation
07-January-2013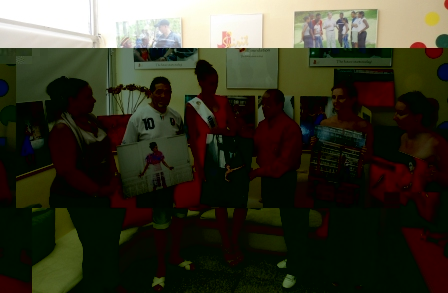 The donation is part of a package which the Jj Spirit Foundation's Italian affiliate members offered the winner of the Miss Seychelles beauty pageant held last year.
Eddie Charles, the executive director of the Jj Spirit Foundation, presented Miss Furneau with the panels in a short ceremony at the Foundation's office at Oceangate House recently.
This was held in the presence of three Italian affiliated members and Dorothy Furneau, Seychelles tourism ambassador based in Italy.
After the presentation, Mr Charles said "this donation is a testimony of the loyalty and sincerity of our Italian affiliate members towards the Jj Spirit Foundation and consequently towards one of its members Miss Furneau herself.''
Mr Charles noted that the foundation receives donations in different forms from its various affiliate members and these include financial, material or packages.
On behalf of the foundation, Mr Charles expressed his heartfelt thanks to the Italian affiliate members for this generous gesture and promised more help for Miss Seychelles in the future.
Miss Furneau also extended her thanks to the Italian members who also sponsored her recent trip to Italy and all the help she received during her trip.
Special thanks went to Mrs Furneau, the Loy family, Italo Digregori (Mrs Fabiola Cinque), Luigi Burchi and all of the foundation's members from Italy who together with the Seychelles Tourism Board have given their support to make the project a reality.
Miss Furneau also expressed her gratitude to the foundation for all its help and wished it all the best in its work with the youths of Seychelles.
She will later present a panel each to the patron and chairperson of the foundation and also the minister responsible for tourism.