Sports Awards of the Year 2012-Nominees known except swimming and golf
08-January-2013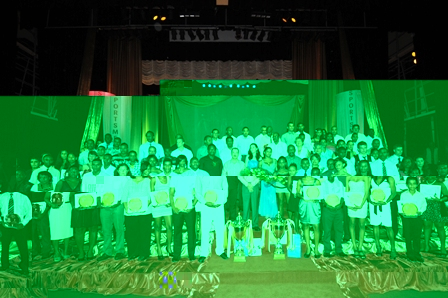 The deadline to submit the names of nominees was December 13, 2012.
Set for January 25 at the International Conference centre, the event will reward all sporting personnel who have excelled during the 2012 season.
Title holders Laser sailor Allan Julie and badminton player Alisen Camille have once again been selected as their sports' best, giving them a chance to defend their titles.
Similarly, outgoing Young Female and Young Male Athletes of the Year, weightlifters Rena Agricole and Sirous Farabeau, also feature in the line-up.
The selection committee, which is yet to be named, will soon meet to shortlist the finalists for the 29th Sports Awards of the Year crowning ceremony.
Tickets for the event cost R350 and are on sale at the Sports Training Centre (Stad Popiler car park) and the National Sports Council (NSC) headquarters at Stad Linite, Roche Caïman. Those who wish to reserve seats and buy tickets can contact the NSC on 4671200 during office hours.
Below are the names of the best athletes, coaches, officials and volunteers chosen by the sporting federations and associations:
Athletics: William Woodcock, Jean-Yves Esparon (male), Lissa Labiche, Marie-Helen Rose (female), Marie-Helen Rose, Dean William (youth)
Badminton: Georgie Cupidon, Kervin Ghislain (male), Alisen Camille, Cynthia Course (female), Javis Renaud, Chlorie Cadeau (youth)
Basketball: Neddy Fanchette, Amadou Sylla (male), Jana Malbrook, Agnes Bristol (female), Laura Françoise, Murvin Aglaé (youth)
Boxing: Andrique Allisop (male), Lorenzo Bonne (youth)
Canoeing: Tony Lespoir (male), Eric D'Unienville (youth)
Cricket: Arvind Bhuva (male), Dharmesh Hirani (youth)
Cycling: Edward Pothin, Dominic Arissol (male), Natacha Bibi (female), Fabi Confiance (youth)
Darts: Reuben Port-Louis (male), Debra Port-Louis (female)
Dominoes: John Alcindor, Joseph Agathine (male), Marie-Ange Rose, Inick Léon (female)
Football: Jean Tigana, Gervais Waye-Hive (male), Laurent Vel (youth)
Handball: Loutherd Amblavany, Leeroy Laure (male), Annette Henriette, Christel Sedgwick (female), Hendrick Siméon, Anifa Siméon (youth)
Hockey: Ervell Barra (male), Federica Germain (female), Aubrey Amade (youth)
Judo: Dominique Dugasse, Naddy Jeanne (male), Brigitte Rose, Amanda Payet (female), Neddy Philoé, Caroline Philoé (youth)
Karate: Bernard Thérésine, Stevens Freminot (male), Gretel Valentin, Janette Thérésine (female), Richard Athanasius-Ah-Weng, Emma Cadeau (youth)
Karting: Andrew Gabriel (male), Debra Mellon (female), Rodney Salome, Shireen Azemia (youth)
Netball: Chantal Jeannie (female)
Petanque: Roland Renaud (male), Marie-May Savy (female), Mario Dufresne (youth)
Sailing: Allan Julie, Rodney Govinden (male), Alison Hoareau (female), Aubrey Sophola, Alison Hoareau (youth)
Squash: Prashant Negi (male), Eva Alphonse (female)
Table tennis: Godfrey Sultan (male), Christy Bristol (female), Nicholas Esther, Zahira Khattab (youth)
Tennis: Sylvester Delpech (male), Clyvie Delpech (female), Damien Laporte, Thérèse Soukoup (youth)
Volleyball: Paul Rose, Kenneth Sinon (male), Belira Jacqueline, Yvonne
Legaie (female), Leroy Morgan, Petra Richard (youth)
Weightlifting: Terrence Dixie, Ian Rose (male), Janet Georges, Ruby
Malvina (female), Sirous Farabeau, Rena Agricole (youth)
Windsurfing: Bertrand Lablache, Stephen Stravens (male)
Disabled: Michael Andrew (male), Karen Renaud (female)
Coach of the Year nominees
Carlos Sanchez Vizcaino (athletics), Alix Allisop (basketball), Gerry
Legras (boxing), Andrew Boniface (cycling), Ahmed Abdou (football),
Alix Dufresne (handball), Calix César (judo), Bernard Cafrine (karate),
Jimmy Vel (table tennis), Frédéric Canale (tennis), Bernard Denis
(volleyball) and Jeffrey Lagrenade (hockey)
Official of the Year nominees
Monica Samson (athletics), Daryl Nourrice (basketball), Lucas Georges
(cycling), Bernard Camille (football), Leroy Samedi (handball),
Christopher Hoareau (karate), Leslie Mathiot (karting), Ralph Dodin
(volleyball), Jenna Finesse (judo),
Volunteer of the Year nominees
Carlo Lauro (tennis), Roy Dijoux (Volleyball), Nathalie Didon (cricket), Antoine Botsoie (petanque)
R. D.