Tourism operators learn of new rules to employ non-Seychellois
09-January-2013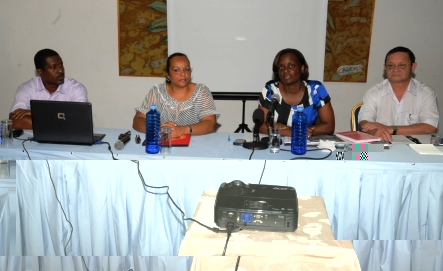 This was clearly borne out on Tuesday at a meeting organised by the Ministry for Labour and Human Resource Development for tourism sector employers to explain new procedures for the employment of non-Seychellois.
The ministry has also come out with lists of activities reserved exclusively for Seychellois and another where expatriates may be recruited.
Present at the meeting at the International Conference Centre were Veronique Bresson, principal secretary for labour and human resource development; Egbert Rosalie, director general employment promotions; Françoise Mein, director training and development within the National Human Resource Development Council; Ronald Fock-Tave, director general in the Immigration Department.
The meeting, the first of three, which will also involve employers of the construction sector as well as those of other sectors, was well attended by hoteliers, tour operators, boat operators, car hirers and other stakeholders of the tourism industry.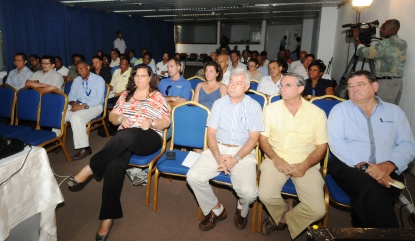 Ms Bresson said a temporary process, allowing employers to apply directly to the immigration office for Gainful Employment Permits (GOP), has been in force since early 2011 and was extended to 2012.
She said it has now been decided to switch back to the previous system and have employers instead submitting their applications for employment of non-Seychellois to the ministry.
She said in some instances, non-Seychellois were being preferred over locals and there was also neglect by employers regarding the transfer of skills from expatriate employees, whose contracts are supposed to be temporary, to allow Seychellois to take over their positions.

Mr Rosalie said the new procedures for employment of non-Seychellois were approved by the Cabinet of Ministers late last year. He said previous procedures have been amended to suit the realities of Seychelles' labour market.
The new procedures have been advertised in the media, including Seychelles Nation, by the ministry.
An application form must be filed by the employer to the ministry accompanied by certain documents. This includes proof of vacancy adverts in a local newspaper or from an employment agency, copy of the company's licence and a training and localisation programme.
The minimum time for the processing of the application is between three and nine working days.
Mr Rosalie said activities reserved for Seychellois are tour guides, park rangers, coxswains, ship chandlers, stevedores, bank clerks and cashiers, truck drivers, panel beaters, social workers.
In most other areas, the employment of non-Seychellois is possible, provided the correct procedures are followed for the ministry to process an application.
Mr Rosalie said that in some instances, processing can be fast-tracked for persons having special expertise, such as for contractor services whose contracts are short; researchers, notably in the environment sector; intra-corporate transfers involving the commercial banks and religious missionaries.

As the sports policy allows local teams to recruit a certain number of foreign players, such sportsmen and women also qualify for fast-tracking.
Obviously, this does not mean that all applications will be approved, but appeals can be made to the minister.
Several tourism operators voiced disagreement with the switch to previous procedures.
Seychelles Hospitality and Tourism Association (SHTA) chairman Louis D'Offay said there had been no consultation whatsoever with tourism stakeholders and until recently, all government officials he spoke to said the system was working well.
He said that because some operators have not been playing fair, it is not right to penalise others who had acted honestly.