Stakeholders to validate draft agricultural policy
10-January-2013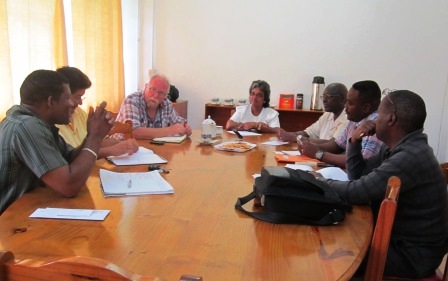 A three-man mission from the New Partnership for Africa's Development (Nepad) agency is in Seychelles since January 6 to help in the consolidation of this document.
Nicholas Sabwa, agriculture economist, Serge Rwamasirabo, programme design and policy specialist, and Professor Tom Hecht, fisheries and aquaculture specialist, are on their second mission with regard to this project.
The process for the development of the policy being undertaken by the Ministry of Natural Resources and Industry (MNRI) and its partners is essential to ensure consistency in the work being done and to provide guidance to the long-term redevelopment plan of the sector.
In mid-2011, Nepad and the MNRI were involved in the CAADP (Comprehensive Africa Agricultural Development Programme) team workshop in order to build the capacity of the team members in the consultation and gathering of information for the development of the policies and the Seychelles National Agriculture Investment Plan (SNAIP).
Nepad has also funded and facilitated the ministerial retreat, held in November 2012, to sensitise the various ministers and their principal secretaries on their important roles in the development of the agricultural sector and to garner their support in the revival of the local agricultural sector.
The outcome of the retreat together with information gathered through various consultations with stakeholders by local officials and the team of consultants are being consolidated into the Food and Nutrition Security Policy which will be submitted to local stakeholders tomorrow in the validation workshop.
Last year, Nepad made several visits to Seychelles.
From September 2-5 Martin Bwalya joined by John Nkum, an independent process facilitator and leadership trainer, engaged with the MNRI, the Ministry of Foreign Affairs (MFA), the Ministry of Finance, Trade and Investment (MFTI), and other key partners of the MNRI to develop a roadmap for an inclusive and evidence-based process to define the national priorities as basis for the National Agriculture and Food Security Investment Plan.

From October 24-31 the same delegation currently in the country joined local experts to support the MNRI in the formulation of the National Food and Nutrition Security Policy and Strategy.
The Nepad representatives were also present during the opening of the first Tonbola Lagrikiltir Grand Anse Mahe on October 26, 2012.
Nepad is a development framework adopted by the African Union (AU) in Lusaka, Zambia in 2001.
It is a radically new intervention, spearheaded by African leaders, to pursue new priorities and approaches to the political and socio-economic transformation of Africa.
The purpose of Nepad's creation is to enhance Africa's growth, development and participation in the global economy. The CAADP is Africa's agricultural development framework within the Nepad agenda.