More people acquire the skills of traditional dancing
10-January-2013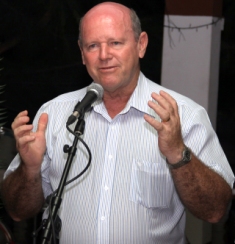 Last Saturday a group of 23 persons – 18 women and five men -- who had completed an eight-month training programme in the art of Seychelles traditional dancing received their certificates.

Among guests present at the ceremony held at the Manresa Restaurant were the Minister for Tourism and Culture Alain St Ange; principal secretary for culture, Benjamine Rose; the special advisor to the minister, Raymonde Onezime; and the director general for culture, Marcel Rosalie.
Traditional dance classes organised by the Ministry of Culture started in 2006 and an average number of 25 persons follow the course annually.
It is a way of passing on knowledge of our heritage to ensure that it is kept alive.

This year's cohort started with 30 participants and ended up with 23.
During the certificate presentation ceremony, the participants proudly demonstrated what they had learned.
After the performance, Minister St Ange said he was highly impressed by what he saw.
"I am just amazed to see how a group of people from different walks of life -- from nurses to doctors and businessmen -- have developed such interest in our traditional dance to the extent that they have devoted precious time from their cumbersome schedule to not only learn, but to have mastered the steps of our kanmtole dance among other traditional dances," the minister said.

The kanmtole is a set of dances that Seychelles has inherited from France. It is a ladans salon or ballroom dance that carries the memory of dances of the Royal Court of Louis X1V.
In Seychelles they form part of the prestigious dances that would be enjoyed by mostly all the different ethnic groups that have composed our nation.
These dances or category of dances represent some of the unifying factors that have united and blended the different ethnic groups into one Seychellois people.
Minister St Ange also expressed his desire to see more and more people take up traditional dance classes.
He said he will also be encouraging team members from within the Ministry of Culture to learn the art as well.
"I wish to commend the effort of Marieta Matombe and her assistants Eddie Rose and Marisa Matombe for doing such a great work in passing on the skills of dancing our traditional dances to so many.
Now they will not step on each other's feet when they take to the floor to enjoy an evening out," Minister St Ange said.

Similar words of appreciation were also echoed by Jenny Marie, a maternity nurse from the Seychelles Hospital in her vote of thanks on behalf of her colleagues.
She urged more people to come forward to learn our traditional dances with a special appeal for more men to join the classes so as to avoid as much as possible the situation where women have to play the role of men during the training.