Accident puts car between poles
11-January-2013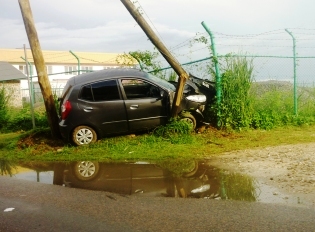 The mystery deepened when they noticed a pole it seemed to have driven through was not damaged, neither was the rear part of the vehicle – which was intact and nearly leaning against the post.
A spokesperson for the car hire company which owns the vehicle told Nation the driver was reportedly in an argument with a female passenger "who allegedly pulled the steering wheel towards her, causing the vehicle to leave the road".
He said damage to the vehicle was not extensive and he was not aware of any injuries to the vehicle's occupants.
The police said they had no details about the accident when we called them but advised us which company to call for clues as to what might have happened.