Carnival banner makes a splash in Victoria
12-January-2013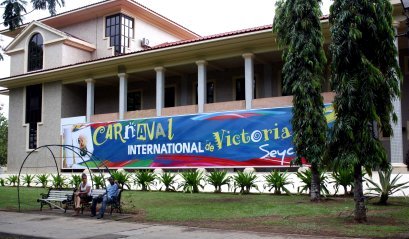 The National Cultural Centre houses the offices of the Ministry of Tourism and Culture.

The banner is sponsored by Maryvonne Pool, a Seychelles Tourism Ambassador and the country's honorary consul based in Tanzania.
The banner was erected into place by Allied Builders as part of its continued effort to work with the Ministry of Tourism and Culture.
This latest sponsorship by Ms Pool is considered as a valuable contribution to the Carnaval International de Victoria as it adds a festive eye catching splash to the town of Victoria.

Fabricated from high quality material, the carnival banner has set the tone for the Seychelles Tourism Board to start its carnival decorations in town this weekend.
Ms Pool's commitment as a key partner of the Carnaval International de Victoria started in 2011 when she sponsored her first mega 15 by 3-metre banner accompanied by six more three-metre banners to the first carnival.
The Minister for Tourism and Culture Alain St Ange used the arrival of the banner from Tanzania to say that the carnival is for Seychelles and its co-hosts, as well as for each and every Seychellois.
"Let us continue to rally to make this great annual event what it deserves to be. Every business in Seychelles reaps the benefits from Seychelles hosting the annual carnival.
We only need to look at the foreign exchange intake by the country, or at the visitor arrival numbers for the period of the carnival to see the evidence of the benefits of the national event.

"Year on year the results stand out. This is why we can say to the business community walk with us and in so doing, you will help to consolidate your own business.
Be in the carnival with a delegation, or decorate your own business premises, come forward to help sponsor the carnival and be seen as a friend of the carnival," said Minister St Ange.
"Maryvonne Pool's gesture speaks volumes, let us see what others can now do," Minister St Ange added.