NCC organises team-building exercises for staff
12-January-2013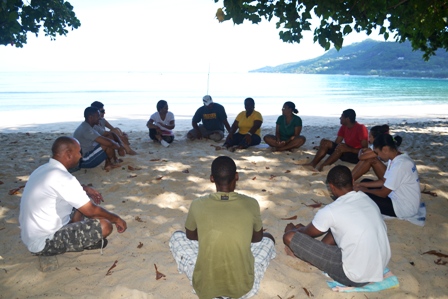 The NCC's communications coordinator Jean-Claude Matombe said the main objective of the exercises was to have fun, improve overall team communication, deepen understanding and awareness of the culture and values of the organisation, and to produce more highly motivated staff to improve the organisation's performance and provide better customer service.
"Time was also spent reflecting on experiences gained while carrying out different campaigns such as promoting the Rights of the Child, the UN Committee's Concluding Observations made in 2011.
We also evaluated past campaigns and discussed ways to make them work better," Mr Matombe said.
He noted that the NCC team recognise the importance of promoting multi-disciplinary cross-agency partnerships around the subject of prevention of child abuse, empowerment of children on how to mitigate risks by learning about protective behaviours and the need to further develop the organisation's advocacy capacity to influence government policy through reliable data collection and evidence-based research.
"I found that the team-building exercises was a really powerful way of uniting the NCC team as a group, it helped us to recognise our different strengths, potentials and sometimes dormant skills, and it also helped us identify our weaknesses – and gave us some ideas on how to improve our problem-solving and creative skills – and we did have loads of fun in the process,'' said Mr Matombe.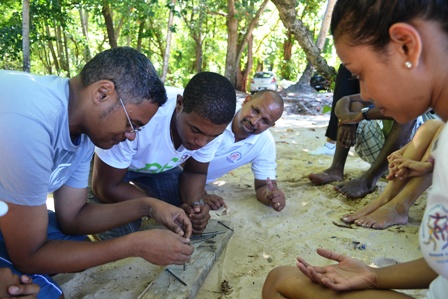 "Decisions were also taken to create a wider space for online collaboration networks to connect young people by involving them and supporting them through promotion and realising their rights and responsibilities as laid down in the Convention on the Rights of the Child," added Mr Matombe.

He stressed that while there is increasing use of social marketing strategies and the internet to deliver information to young people such as through Facebook, Twitter, mobile phones (and other digital technology), NCC wants to ensure that the campaigns developed are relevant, that they keep children safe and will have a positive impact on young people's lives.

He noted that in relation to this the NCC is looking for enthusiastic and committed young people between the ages of 12 and 18, who love everything digital so they can receive training to increase their knowledge, skills and capacities to engage directly in an on-line activism project which will ensure peer to peer communication and contribute towards creating social changes.
"This process of involving children and young people in on-line conversations and campaigning can give them opportunities to make their voices heard on matters that concern them and allow them to have their say on what works for them in cyberspace," added Mr Matombe.

Mr Matombe is calling on all young people who are interested to take part to call the NCC's office at Bel Eau on telephone 4283900 during working hours to find out more about the project.

Compiled by M-A.L