Seychelles, S. Africa team up to boost standards and quality
17-January-2013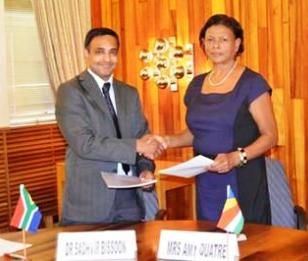 Following discussions between the Seychelles Bureau of Standards (SBS) and the South African Bureau of Standards (SABS) over the past months, a memorandum of understanding (MoU) between the two organisations was signed late last year at the SABS head office.
The document was signed by SABS' executive, Dr Sadhvir Bissoon and the chief executive of SBS, Amy Quatre.
Mrs Quatre was accompanied by Mariam Kante, principal chemist at the SBS.
The MoU will initiate the process of further establishing cooperative programmes that will enhance the two organisations' standardisation engagement at a national, regional and international level.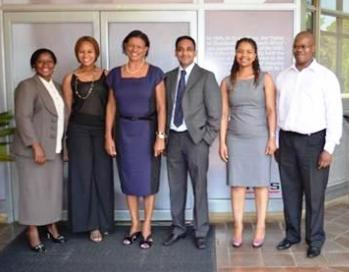 The two national standards bodies will cooperate on various issues relating to:
• international, regional and national standardisation activities including the exchange and/or exploitation of home-grown standards and other national standards; inspection and certification of designated products traded between the two countries, and recognition of relevant conformity assessment certificates and test reports; capacity building for standard based training of trainers and of auditors
• the drafting and implementation of standards, as well as resolving of technical barriers to trade and other related matters
• exchange of personnel for short periods to facilitate skills and knowledge transfer; as well as training in laboratory testing and auditing on a commercial basis.
The cooperation will be through the exchange of information, best practices and mutually agreed projects on related issues.
Mrs Quatre has expressed her sincere gratitude to the personnel of SABS whose dedication and efforts have contributed to the finalisation of this MoU which provides the framework and platform for future enhanced collaboration in the area of standardisation and quality.
She also expressed confidence that this strategic partnership that is now developing between the SABS and the SBS will strengthen relations between the two governments and will assist in building a cooperation that is more focused for the benefit of both countries.
Both national standards bodies remain committed to the realisation of the African agenda and sharing of ideas, best practices and capacity building on matters of standards and quality.