Carnaval rehearsal set for Saturday next week
18-January-2013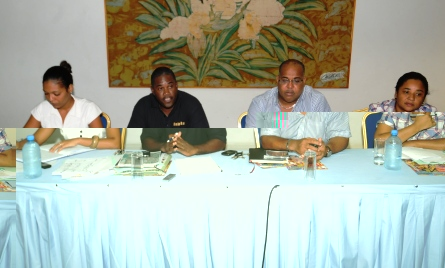 This came out on Thursday when they met with the event's organisers at the International Conference Centre where they got details of how the February 9 event will be and what they are expected to do so as the gain the most from it.
They were advised, for example to give clear descriptions of their floats in advance so that masters of ceremony and the media can explain what they are about.
Road marking, float placement and numbers will be given from 7am on February 9 but those who wish to be on location the day before were advised to let the organisers know in advance.
"Each team will be able to display for no more than two minutes at the VIP area in front of the National Library," said Jimmy Savy, one of the organisers who addressed the team representatives.
The teams will be allowed another two minutes in front of the Supreme Court where – interestingly – the jury will be seated.
Some of the representatives present yesterday have in fact been members of a different jury inside the court buildings outside which their teams will now be judged.
Outside the Orion Mall, the teams will have another two minutes of display.
Floats will need to be four metres high, seven metres long and three metres wide, each having no less that 25 people and no more than 50.
Each group will be expected to provide its own security and refreshments, although the organisers will give marshalls to guide the floats, while the Red Cross will give out water and glucose.
Roads along the route of the carnaval will be closed at noon on February 9.
The carnaval will start at Roche Caiman, pass down Bois de Rose avenue, Francis Rachel and Albert streets, turning right to join Palm street and joining 5th June avenue on their way to finish the remarkable event which has been dubbed as Carnaval des carnavals.
It is expected to attract the world's best carnivals who will take part in three days of celebration alongside cultural groups from the community of nations.
"The event promises to be the focus of international as well as local attention and will feature a procession of colourful floats representing the various national carnivals, as well as a raft of other dedicated activities all of which will fall under the carnival's theme," the organisers had said earlier adding:
"It will get world press coverage and is sure to be a crowd-pleaser, bringing the lively ambiance of international carnival time to the islands."