Fish stock preservation remains fishing club's top priority-Marlin slam fishing tournament
18-January-2013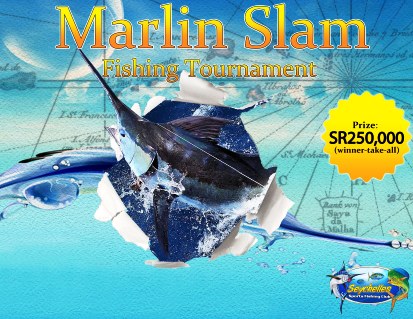 The SSFC has produced very strict guidelines for anglers taking part, all in the spirit of conservation, responsibility and sound judgment, encouraging anglers to release as many fish as possible.
The club is not offering any prize for total catch or average catch, and all second marlins that appear smaller than the first should be released.
If anglers honestly believe that the second fish is heavier, then they can boat it without any penalty.
The competition is open to trolling only – jigging is not permitted – and boats of all sizes can take part.

The International Game Fish Association rules will apply only for world record applications, while fish must be caught on rod and reel only using live bait, dead bait or artificial lures. Electric reels and long-line winches are not allowed.
Boats arriving after the time deadline will be disqualified and will not be eligible for any prizes.

Any protests must be made in writing by 7pm to the weigh master who will consult with the tournament officials.
All marlins caught shall be videoed with the SSFC special A4 number which shall be collected by each team at Eden Island before 3am on tournament day, while any video of caught and landed marlin without the SSFC special A4 number shall be disqualified.
If no marlin is caught, no trophy will be awarded and the star prize of R250,000 will roll over to 2014.
The team weighing the heaviest fish of any of the following species – Dorado, Wahoo, Sailfish, Dogtooth, Tuna, Yellow fin Tuna – will be awarded R25,000 and will be declared the winner.
A team, consisting of a minimum two anglers, should depart at 3am on Saturday January 19 and should return to the Bravo Restaurant pontoon at Eden Island at 5pm on the same day.
The deadline for registration is 6pm today at the skipper's meeting which will take place at the Bravo Restaurant.
The entrance fee is R10,000 per team and refund will not be issued once a team have registered. However, a team may switch to another boat prior to the registration deadline.
The competition is open to members of the SSFC only, while non-members can join the club prior to the tournament – at the skipper's meeting – at a cost of R600 per annum for adults and R200 for children below 18 years old.
The prize-giving ceremony will be held at the Bravo Restaurant on Sunday, starting at 11am for anglers, friends and family members.
Tickets for the prize-giving lunch will cost R320 for adults and SR225 for children. These must be paid at the skipper's meeting, along with registration for the tournament.
R. D.