Seychelles delegation at South Asia's leading tourism fair
19-January-2013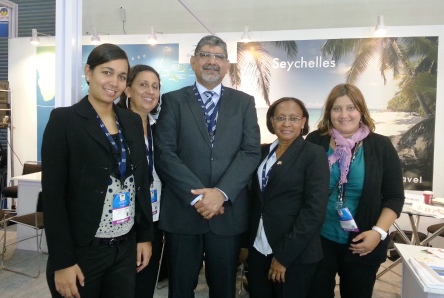 SATTE, India's first and by far biggest tourism event, clearly recognises that India is proving to be one of the fastest growing markets for travel and tourism in the world.

Thirty-three countries are taking in this year's event, which is its 19th edition.
The Seychelles Tourism Board (STB) is being represented by senior marketing executive Stephanie Lablache and marketing executive Mavreen Poupouneau, along with three local trade partners, Johnette Labiche of Berjaya Beau Vallon Bay, Freddy Karkaria of Select – Seychelles, and Doris Coopoosamy of 7˚ South.
Seychelles started its first day at SATTE on a good note with a courtesy visit from the secretary general for the Ministry of Tourism in India, Parvez Dewan, who was presented with a small token – a USB coco de mer -- from the Seychelles by Ms Lablache.
The day continued with many potential buyers visiting the Seychelles stand and with promising business for the participating local partners.

The STB representatives also met some reputed media companies such as Lifestyle magazine and also gave an interview about how Seychelles intends to promote itself in India. The interview will feature in the SATTE newsletter.
After three days of attending the fair in New Delhi, the Seychelles delegation will head to Mumbai to hopefully gain more promising business opportunities.
"The STB firmly believes in the potential that the Indian sub continent has to offer and last year we have seen a small 2% growth over the previous year in terms of visitor arrivals.
By positioning ourselves in one of the biggest tourism events in this fast growing market it will surely help to create that much needed visibility that our destination Seychelles needs to have on this market," says Elsia Grandcourt, chief executive of the STB.