Minister Morgan meets Danish naval forces team
21-January-2013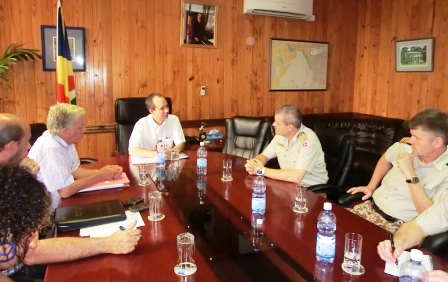 During their visit the delegation, headed by Rear Admiral Finn Hansen and comprising other senior officers of the RDN, met the Minister for Home Affairs and Transport Joël Morgan, who is also the chairman of the high-level committee on piracy.
The RDN is operating under NATO's 'Ocean Shield' maritime operations in the Indian Ocean.
The Danish delegation have reiterated to the Seychelles government their commitment and engagement in maintaining their military presence in the waters around Seychelles and in the region.
Minister Morgan expressed the appreciation of the Seychelles government to the Danish government for their continuing support in combating piracy and stressed that even with the decrease of piracy activity in the Seychelles EEZ, it was very important to maintain a strong military presence in the area to prevent any resurgence of illegal activities by the pirates.

The Minister reiterated that the Seychelles with its allies will be focusing its efforts at apprehending and prosecuting those who mastermind the operations of the pirate groups and profit as a result.
Rear Admiral Hansen in response stated that current agreements will see the RDN and other military assets from the Kingdom of Denmark in the region until 2014, at which time there will be a review.

The two parties agreed to continue further developing agreements for cooperation in the area of counter piracy and for bringing to justice the perpetrators behind the acts of piracy.