Traditional Combat :Local fighters get first international exposure-• Shihan Philoé promoted to 6th dan
21-January-2013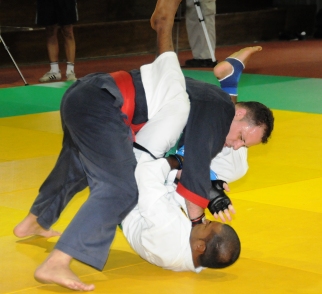 During the session, head instructor Philip Philoé was promoted to Shihan 6th dan by Shihan Sorab Mowlabucus (8th dan) of Mauritius, who is also the secretary of the All Japan Ju-Jitsu International Federation (AJJIF) for Indian Ocean.
Other than Shihan Philoé, three other members – Jean-François Adeline, Ben Surman and Jude Raoul –were promoted to 1st dan, while Lisa Abel was awarded her black belt.
At Saturday's session, the fighters demonstrated various self defence techniques, including weaponry, before engaging into serious competitions.
In the three bouts on Saturday's schedule, the Mauritian fighters won two, while Seychelles' only win came courtesy of Adeline through submission.
Lisa Abel lost to a male opponent from Mauritius and Steve Sarah was also beaten.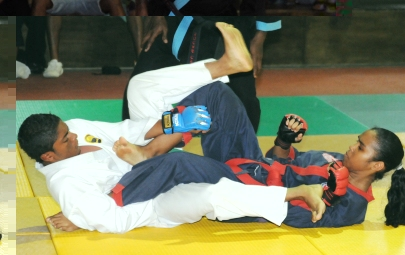 According to Shihan Philoé, he is very satisfied with the performance of his students on their international debut. He added that the exchange was an ideal opportunity for them to assess their level and work on their weaknesses for improvement.
He added that the Mauritian fighters are not very far ahead of us and with more devotion and hard training the local fighters will surpass them.
R. D.