Eradication of 'Korbo' still a challenge
21-January-2013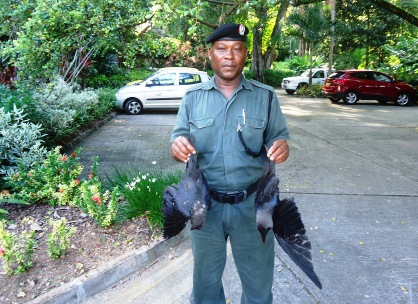 The range of the species extends from coasts of the Red Sea to East Africa, Australia, India, China and Singapore.
Likelihood of individuals having been introduced to Seychelles via cargo vessel is hence probable.
According to historical records, there was a small population of approximately 30 'Korbo' around the northeastern region of Mahé during the early 1980s; probably established after 'jumping ship' during 1977.
Nine individuals were shot in 1986.
A R500 bounty was introduced in 1992 to promote public involvement. According to records, the first bounty for a dead crow was paid on March 5 of that year.
The population was eradicated during the year 1994.
Being an opportunistic scavenger, they often out-compete other avian species throughout their Asian range. Historically, local presence had coincided with decrease in poultry productions.
They were often observed feeding on discarded waste and in gutters; eliciting concerns about probability of their spreading diseases to other native avian species or even human being.
Recent observations have shown a preference for smaller native vertebrates, particularly endemic geckoes and skinks, which consequently suggest apparent competition for prey with the Seychelles Kestrel.
'Korbo' is thus considered a pest and devastating predator throughout localities of introduction.
With increasing movements of cargo vessels between Asia and Port Victoria, re-invasion took place in 1998 when a lone individual was observed and consequently shot.
However, another single individual was observed and again shot in 2002. Another sighting of a single individual was made in 2005. During May 2009 a lone individual was sighted and reported on Mahé.
After nearly two months of intensive monitoring and searching, the 'Korbo' was shot.
Around mid July, another lone individual was reported. Following awareness campaign, reports from the public and localised observations, behavioural patterns and movements were determined and became predictable.
That one, however, proved to be wary like previous ones. It took nearly two and a half months to lure it to a feeding station where it was shot.
Recent reports received on November 12, 2012 of two individuals were confirmed after intensive searches around the new Coast Guard Base at Ile Perseverance.
Immediate actions were taken whereby our sharpshooter from the PSSW took only one minute on November 13, to dispose of them.
Accidental introduction remains random, cannot be prevented and may be difficult to control.
Timely eradication of invasive alien species is therefore unavoidable because it signifies commitment towards conservation of Seychelles biodiversity.
Awareness will continue to form part of these commitments to ensure that invasive species are prevented from becoming established and to that end the Ministry of Environment and Energy is calling on members of the public to report any sighting of unusual birds or other animals and plants to the ministry's 'Greenline' on Tel: 2722111 or the Wildlife, Trade and Conservation Section on 2722075.
The Ministry of Environment and Energy extends gratitude to members of the public who continue to prove that they are of great help in its endeavors to achieving control over invasive alien species in Seychelles.

The Ministry continues to rely on your valuable information, concerns and reciprocal collaborations.