Start of new academic year-Students urged to buckle down
22-January-2013
She was speaking to students assembled at the English River secondary school. The newcomers – secondary one students – were accompanied by their parents for the opening of term ceremony.
Mrs Mondon said after six years of primary school, there is no room for complacency and students should seize every opportunity made available to them.
She said the students should, however, also retain the good values learned in primary school and be strong to resist bad influences.
"As I've already said in my message for the opening of the new school year, we can do better," said Minister Mondon.
The assembly at English River secondary school, headed by Marie-Claude Morel, began at 8am sharp, with the singing of the National Anthem and prayers read out by several teachers.
Besides the more than 30 teachers at the school, the assembly was also attended by the education principal secretary Merida Delcy and the director general for schools Odile Octave.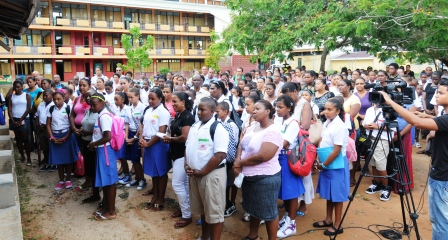 Ms Morel insisted on punctuality and said the school administration will do its best to address the students' needs. She commended students and parents who have been in contact with the school throughout last year.
She said parents have a duty to constantly monitor their children, see that they attend school regularly and pursue their studies at home in order to succeed.
Ms Morel stressed that students and parents must not wait until S4 or S5 to try to put things right, because then, it might be too late.
When conduct at school and application to studies are serious, then both students and parents will be satisfied with the stream for higher education selected for them.
Students and parents were also presented with the deputy heads for S4 and S5, Jourdanne Lozé, who is assisted by physical education instructor Fernand Gamatis. The deputy head for S1 to S3 is Peter Marguerite.
English River secondary school has five classes of students each from S1 to S5.
The school takes pupils having completed primary schooling from La Rosière, Anse Etoile, La Retraite and Ile Perseverance.
Minister Mondon and her delegation also visited the Bel Au primary and Plaisance primary schools.

Today, they are expected to attend a special assembly at the Grand Anse primary school, followed by visits at the Anse Boileau primary and Anse Royale primary and secondary schools.