Firm donates leisure room and computer to orphanage
22-January-2013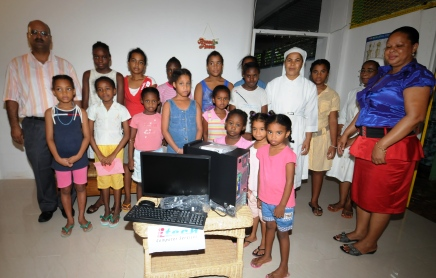 The presentation was made in the presence of the children by the company's PR officer Doris Belle to Sister Rosemilla, director of the Foyer.
Also present was D.V. Sharma, the manager for purchase and global sourcing and Wendy Couche, a Mauritian volunteer and child carer for seven years in Dubai, who will assist the children in the use of the computer during her vacation in Seychelles.
The children, aged between 4 and 14, are normally schooled at Belonie and English River as well as the School for the Exceptional Child.
Noting that the Pillay R Group has often assisted the Foyer de la Providence in the past, Ms Belle said while hosting Christmas lunch, a request was made to renovate the leisure room, which is used for meetings and watching television, since it was in rather a poor state.
The company immediately set about tiling the room and re-painting to give it a new décor.
The computer was also available then, but had to wait for the renovation to be completed.
Acknowledging the donations, Shirley Anamolle and Farah Victor -- both 10 years old -- said the renovated leisure room and computer are "wonderful gifts" which will help them tremendously in their studies.
They assured the staff of the Pillay R Group that good use will be made of these, adding that they will also be well remembered in their daily prayers.
Sister Rosemilla also thanked the Pillay R Group for the commendable gesture and assured the company officials that good use will be made of the new leisure room and computer.