Up Close … with Marie Alice Vivien, Sister of St. Joseph of Cluny-'My greatest joy is when people I have helped come back to say thank you'
22-January-2013
Sister Alice, a Mauritian, started her mission here in 2008 and almost five years later she has fully integrated in the community, where she runs leadership skills training courses, holds counselling sessions and is involved in different religious movements in the Diocese of Port Victoria.
Catching up with her recently, she was happy to talk about her mission here, share some of her most memorable experiences and of course I learned of the reason why she does not wear a veil like other nuns.
It was a smiling Sister Alice who welcomed me in the small but cosy living room of the apartment at the Convent of the Sisters of St. Joseph of Cluny in Victoria she shares with her fellow Sister, Nita Servina.
Her life journey
Sister Alice vividly recalls her childhood life in her homeland Mauritius. Like any ordinary child she attended school and did all the things normal children do.
Coming from a religious family she loved going to mass with her parents and only sister and taking part in all activities organised by the church.
Before entering a convent in France to become a nun 45 years ago, she was a primary school teacher in Mauritius.
While preparing herself to take her vows and become a nun, the young Alice also pursued her studies in the English language thus obtaining her masters. She followed spiritual direction studies, counselling and leadership skills and she learned how to be an animator and leader, among other training.
After taking her vows and becoming a nun, she spent some 30 years teaching at secondary and advanced level in different French speaking island countries like Reunion and French Guyana where she was also deputy head teacher.
She also spent nine years as head teacher in Papua New Guinea.
Forty-two years since she became a nun, Sister Alice is still true to her vows and very happy to be in Seychelles. She still has some sweet memories of her childhood dream of becoming a nun one day.
"It was something I always wanted and I am happy I made the choice," she says.
"I always felt an inner joy and fulfillment when I took part in church activities, when I was part of different movements in the church especially charitable groups and I always believed that I would serve these causes better if I dedicate my life to do that and serve God as well," she says.
"My family always supported me and I recalled the day I made the decision to go into the convent my father's reaction was : 'If you are happy we are happy, if this is what you want we are happy for you'".
Sister Alice bubbles with laughter when she recalls what the neighbours said at that time.
"A beautiful girl like her with a good job, why doesn't she marry, what is she going to do in the convent?" they said.
"But for me my decision was made and up to now I have never for once regretted it," says Sister Alice.
I don't know why but I was not surprised when she told me her sister is a nun too, though with a different congregation and is working on the island of Rodrigues.
Choice of attire
Sister Alice remembers the first years when she had just taken her vows. During those times she wore her veil like all the other nuns here.
It was during her posting on Reunion island that she had to make the choice.
"Taking a post in a public school there meant abiding to strict regulations," she explains - France's strict separation of church and state relegates religion to the private sphere.
"I did not want the pupils to lose out so I made the choice not to wear the veil and this was around 1976 and I was given the go ahead by my congregation," Sister Alice points out.
She notes that apart from a few occasions when she has worn her veil, most of the time she sticks to not wearing it, a practice adopted by many sisters of the congregation in different countries where there is the need to make that choice.
But Sister Alice notes that while at that time she was somehow forced to stop wearing the veil, today it has become more of a choice.
"I feel more comfortable and at ease but everyone who knows me respect my choice and I am proud to let everybody know who I am," she says.
Life in Seychelles
She was in France four years after celebrating her 60th birthday when her superior informed her that she was coming to Seychelles. She arrived here in 2008 and was warmly welcomed by the local St. Joseph of Cluny congregation as well as the Roman Catholic Diocese.
Almost five years on, Sister Alice has fully settled in her new posting. She is doing a lot of work at diocese level. She is on the parish and diocese councils, she started conducting leadership skills training courses in 2009.
"It all started with a group affiliated with the Association for the Promotion of Solid and Humane Families (APSHF) led by Edwina Adrienne," she recalls.
The training soon spread out to include all leaders of different religious groups in the diocese at the request of Bishop Denis Wiehe.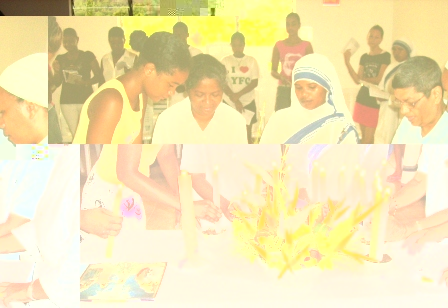 But since last year Sister Alice's leadership training courses have gained popularity and are very much in demand and open for any person or groups who feel they have a need.
"I've had groups of school and health leaders, among different others," she says.
Sister Alice conducts all the training courses at the Sisters of St. Joseph of Cluny's convent in Victoria.
Yearning for God
During the few years she has been here, sister Alice says she has been overwhelmed by the number of people who come to seek God's blessings and grace.
"In their moments of great difficulty, turmoil in their lives and when faced with all sorts of challenges many people look for God," notes the Sister.
She says people of all ages and both sexes come looking for help, advice and also someone to listen to them.
Sister Alice notes that problems vary from parents seeking help for numerous challenges they are facing with their children, couples looking for solutions to relationship difficulties, to young people trying to find themselves.
"They all come humbly and simply looking for help," notes Sister Alice.
She says very often one partner comes and she advises him or her to come with the other half. She works with them, seeing them first individually then together.
In a day, up to five persons can just drop by the convent to seek the Sister's help and advice.
"My greatest joy and satisfaction is to be able to bring some comfort to people in distress and being able to help them overcome the many challenges they encounter. It makes you feel worthy when people come back and thank you for your help and advice," notes the Sister.
"Some just call, send a card just to say thank you and share the joy of having been able to change their lives and this is a great achievement for me," Sister Alice says.
Sister Alice also works with a youth movement called Cherche ton étoile (Look for your star) a movement which seeks to help the young people reflect on their lives and decide which path they want to choose, help them discover God's plans for each and every one of them.
"We help and guide them in making the right choices and these can either be married life, a life as God's servant as a priest, brother, nun or other," she says.
It's with great passion and simplicity that Sister Alice talks about all the work she does with the different movements and these include the Centre d'Acceuil de La Rosière which takes in and counsel substance abuse victims.
Sister Alice believes that many people here keep their worries and troubles bottled up and often it is only when they come seeking for help that one realises the extent and depth of their troubles and one starts to wonder how on earth has it been possible for a person to carry so huge a burden!
Providing a shoulder to cry on
"Being a nun you get to meet all types of people, you become accustomed to all sorts of problems people come to you with looking for help," says Sister Alice, who believes that nuns have people's respect and trust.
"Apart from pouring their hearts and laying bare their souls, there are people who just come looking for a shoulder to cry on and a sympathetic ear to listen to them.
You will be surprised the number of people who loses a loved one so suddenly and it is only after the tragedy that they realise they have not had time to enjoy the deceased company or express their love and how they feel about the person," says Sister Alice.
She notes that there are also others who do not express their grief openly in moments of pain and loss and it is only later that they start to suffer and it is then that they come looking for advice on how best to overcome their grief and get on with their lives.
Memorable experiences
Among her most memorable experiences Sister Alice talks of the time she was working in Papua New Guinea. In fact when I met her, she had just spent six weeks there where she had been invited for the celebrations to mark the silver jubilee of the school where she had previously worked.

Once again she went through the very long journey she remembers so well before reaching her destination.
Reaching Papua New Guinea is not easy. She explains it is a vast place and all travelling is by small planes.
"You take a plane from Mahé to Paris, from Paris to Singapore, then to the capital Port Moresby and from there take another plane to the countryside town and then there is the choice of taking a ride on a truck or a two-hour walk to the village."
Sister Alice first went there in 1997 to work on a women literacy programme and for her it was God's calling. The mission there was soon after a difficult time in her life. She had just recovered from a long illness.
"The poverty, illiteracy and simplicity of the people there were overwhelming. Children and young adults did not know their age, children walked hours to and from school every day and the school had to source out food for them," she says.
"With no communication, proper roads, radio or television one can imagine how difficult life can be but the people are kind and they are happy with their simple way of life," she notes.
Sister Alice set to organise the school there and education for the pupils whom she grouped according to their possible age based on their physical appearances.
She recalls there were over 200 pupils at the school at that time with varying ages.
Organising outings for the pupils to the closest town, which was some 12 hours away by truck, was among the most memorable moments of her time spent in that part of the world.
"Imagine young boys and girls seeing a town, big shops, shoes and clothes for the first time and the effect everything has on them! It was heart-wrenching," she reminisces.
Sister Alice spent nine years there and for her these were the most 'missionary' times of her life as a nun.
"Seeing death and disease take their toll on people around you is terrible but in them I found the fortitude to go on and succeed in my mission there," says the Sister.
She says the warmth of the people there is so touching that it brings tears to your eyes just being among them and sharing their simple way of living.
Looking back at her life as a missionary of God, Sister Alice says she is happy and fulfilled and as long as God gives her the good health and strength, she sees herself continuing in her mission to help others and spread His words.
Leisure time…
During the little time Sister Alice considers leisure, she enjoys watching documentaries, detective movies and reading.
Cooking is something she enjoys especially when she prepares dishes for visitors and guests. But her favourite Creole food is any coconut curry dish. "These I love," she laughs.
She also loves baking every now and then.
Sister Alice says she has appreciated the traditional dishes of all the countries where she has been posted so far.
by Marie-Anne Lepathy