'Migration a key driver of global economy'
25-January-2013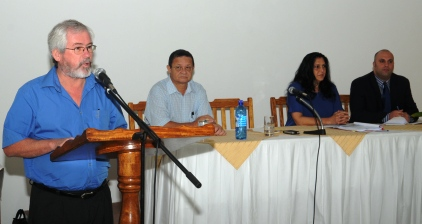 Mr Loustau-Lalanne addressing guests and delegates at the launch of the workshop yesterday
Ambassador Maurice Loustau-Lalanne made this remark while launching a workshop focusing on migration and development planning though migration profiles in the south-west Indian Ocean region.
The one-day seminar, held at Care House in Victoria yesterday, has been organised by the Geneva-based inter-government body Organisation for Migration (IMO).
It was attended by representatives of Ministry of Foreign Affairs, the National Bureau of Statistics (NBS) and the departments of Immigration, Environment and Culture as well as non-governmental bodies, such as the National Council for Children (NCC) and the Seychelles Chamber of Commerce and Industry (SCCI).
Noting that one billion people in the world are migrants, Mr Loustau-Lalanne said that migration contributes significantly to transfer of skills, capacity-building and technology, besides filling labour gaps.
Mr Loustau-Lalanne said many countries also earn revenue in rather a big way through remittances sent by their citizens working in other countries.
He said that the IMO is already helping a number of countries, including Seychelles, to formulate evidence-based policies on migration.
Mr Loustau-Lalanne said that Seychelles is a member state of the IMO since December 2011 and it is pleased that through dialogue, it has rapidly identified and developed an important IMO project covering the country.
He noted that Seychelles is already benefiting from the IMO in obtaining biometric passport readers and other related equipment. This is in line with immigration requirements of the European Union (EU), our main tourism market.
The acting head of the IMO office in Mauritius, Leyla Tegmo-Reddy, said the organisation has 149 states as members, with 12 others holding observer status. It has offices in over 100 countries, where 7,800 staff are working on more than 2,700 projects globally.
She said that the project being launched in Seychelles also covers Mauritius and the Comoros. She added that IMO will support the three Indian Ocean Commission (IOC) member states to develop national immigration profiles.
In order to initiate the development planning cycle, a situation analysis will be conducted and involve research and data collection to understand the country and regional context, and provide a sound foundation for decisions on which to adopt strategies.
An IMO technical working group (TWG) will be established in each country. Mauritius and Madagascar already have them and meetings have taken place. The first meeting of the TWG in Seychelles was due to begin after this official launch.
The IMO regional specialist on Labour, Migration and Development, Jo Rispoli, gave an overview of global migration trends. He noted that one in every 32 people in the world is a migrant.
Migration patterns are 32% South-South, 28% North to North and only 7% North to South.
He said that for the past ten years, the IMO has harnessed the potential of migration to enhance policy dialogue, capacity-building and ensure orderly travel between countries.
Mr Rispoli said the organisation is also helping through pre-departure orientation and language training.
It is also the IMO's role to ensure that families of migrants are not neglected. Mr Rispoli mentioned Zimbabwe, where many women and families are left behind as the menfolk leave for jobs on South African farms. He said that in such cases, livelihood assistance is organised.
Mr Rispoli pointed out that over the past decades and more recently with the global recession, migration patterns have changed a great deal and countries which were receiving immigrants are today seeing significant numbers of their own citizens emigrating.
The IMO also has programmes to assist returning immigrants re-settle in their home countries after living for many years in foreign lands.
The IMO has produced a series of migration profiles with the financial support of the European Union. These country reports bring together existing information from different sources in a structured manner and provide a comprehensive overview of key international migration and socio-economic development trends in selected countries in different regions.
Seventeen forthcoming migration profiles will cover Seychelles, Mauritius, Madagascar, Comoros, Sri Lanka and India, among others.
When preparing these migration profiles, particular attention is given to national ownership and sustainability. Migration profiles are viewed as a government-owned tool involving a process of consultation with policy-makers in order to identify national priorities and objectives.