Colourful Kavadi procession enlivens Victoria
28-January-2013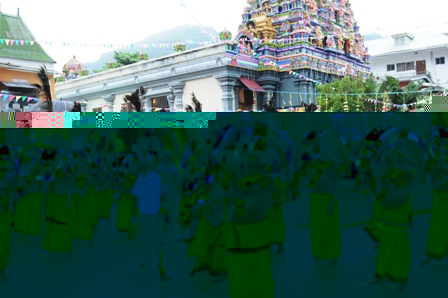 Scenes from the procession
This procession is held annually either at the end of January or in February.
The chairman of the Seychelles Hindu Kovil Sangam, Subramaniyan Pillay, told Seychelles Nation that they started the tradition in 1994 and that it has taken place annually ever since for the 6,000 plus Hindu community in Seychelles.
"Despite the rain, the procession took place as planned and we are happy with the turnout, which we estimate is well over 600 people," he said.
Apart from Hindus, a large number of tourists, as well as locals, had gathered along the procession route to take pictures, and admire the colourful procession, as it made its way through town.
The procession started at Quincy Street, moved to Revolution Street, Harrison Street, Lodge Street, and finished back at the Navasakthi temple, which was built in 1992, with Lord Sri Navasakthi Vinagayar as the main deity.
All present entered the temple and Lord Muruga was then served milk and oil.
Mr Pillay said his wish was that everyone is blessed with joy, grace, courage and determination at work and at home, and be good to one another.
After the procession, all present – Hindus, tourists and locals alike – were invited to a vegetarian lunch inside the temple which was consecrated last week after renovation work worth R1.5m had been completed.
During the consecration ceremony, one of the kalasam which was stolen last year, was replaced.