Mixed martial arts-Cesar gets Brazilian Ju-Jitsu purple belt
29-January-2013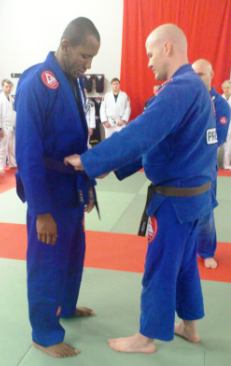 It was on Sunday January 13, during a winter camp in the city of Porvoo on the southern coast of Finland, that Cesar was received his promotion.
He is at present responsible for Gracie Barra Porvoo, which has been in existence since November 2012.
Gracie Barra is an authentic BJJ association founded by Carlos Gracie Jr, aiming to keep a legacy of Jiu-Jitsu as a life-changing art alive and for everyone.
Gracie Barra Ju-Jitsu does not only benefit its practitioners with health and fitness, but also in building their characters.
The purple belt is the intermediate adult ranking in Brazilian Ju-Jitsu. The purple belt level practitioner has gained a large amount of knowledge, and purple belts are generally considered qualified to instruct lower ranked students.
In other martial arts, students with a similar amount of experience would often be ranked as a black (instructor) level belt.
Locally, Cesar is well-known as the co-founder – along with Regis Constance and Harry Rose – of the fast-growing Seychelles Street Blast Martial Arts Association (SBMA) in 2000.
The SBMA offers combat sport which combines the use of a variety of fighting techniques and styles now being officially practiced in Seychelles.
In 2005, Cesar moved to the United Kingdom to join the Pancrase London and later the Hybrid Fight Team.
In 2007, he moved to Greece where he coached and competed actively and among his many achievements is his professional world champion kickboxing title under the World Profi Kickboxing Association (WPKA). Well experienced in submission grappling, Cesar is presently living and actively coaching functional fitness and MMA in Finland.
R. D.