Farms crippled by heavy rains
01-February-2013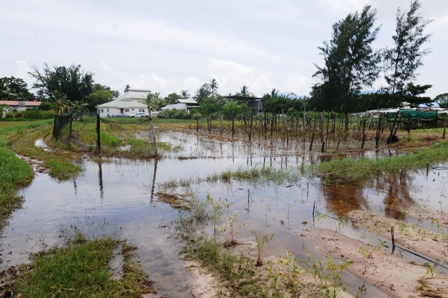 Seychelles Agricultural Agency (SAA) chief executive Marc Naiken said in most cases the water level on the plateau rose so fast, that even the shade house (plastic sheeting) beneath which the vegetables are grown, proved ineffective.
He noted that while there are 590 registered farmers, those affected include those going into intensive and mechanised cultivation, producing the bulk of the vegetables grown locally.
In Au Cap alone, 18 farms have been crippled. The 400mm rains recorded from Friday to Tuesday – more than twice the average for this period of the year – have also affected some other large farms on the Anse Royale and Anse Boileau coastal plains.
Not only did the farmers lose their clothes, but in most cases also their entire support system, including reservoirs, stores, rotovators and other equipment.
Mr Naiken noted that after plants are inundated for more than half an hour, their root systems are destroyed, rendering them incapable of absorbing oxygen, which means they will die within days.
The full extent of the damage will become obvious now that there is sunshine, when all plants hit by excessive rain will just wilt away.
He noted that much of the vegetables constitute the quantity salvaged before the full extent of the storm became fully apparent.
Mr Naiken said it is clear that most farmers affected will need help to re-launch.
"Not only have they lost their livelihood, but also their infrastructure and other support systems," he said.
He also pointed out that the excessive rains, which have covered large areas of cultivable land with sticky mud, will probably raise the potential for diseases and make crops even more less resistant, another blow to farmers.
The Minister for Natural Resources and Industry, Peter Sinon, said on Wednesday that even before the latest disaster, his ministry had envisaged to use part of the Livestock Trust Fund, which depends on the tax levied on imported broiler, to help vegetable growers.
This has now become a more pressing matter and it is expected that the proposal will be approved by cabinet.
President James Michel has also announced the setting up of a National Disaster Relief Fund and appointed a management committee consisting of persons from both government and the private sector to oversee the account opened at the Nouvobanq.
The SAA is urging all residents to contribute generously to the fund as part of the money raised will also go towards helping the hard-working men and women who grow our food.
Some aid is expected from foreign agencies, such as the United Nations' Food and Agriculture Organisation (FAO), but this will probably be inadequate to help everyone affected.