Barclays customers win trip to UK to watch live football match
01-February-2013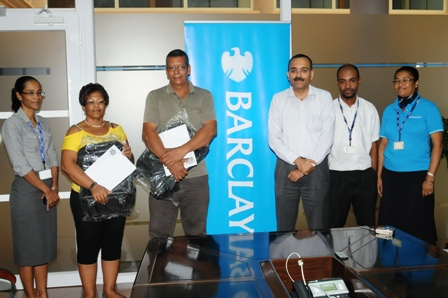 They are the lucky winners of the Barclays Premier League campaign, which is held on a quarterly basis.
The bank's managing director Rakesh Jha presented the travelling documents to the winners on Tuesday afternoon at its offices in the Capital City building.
Mrs Jean-Louis' documents were collected by her husband Roy Jean-Louis who said her wife was shocked when she received the news but was very happy to have won the all-expenses paid trip.
Barclays Bank Seychelles customers who apply for new loans or top up their existing loans and meet the criteria of the campaign, are qualified for entry in the quarterly draw.
Our photo shows Ms Rioux and Mrs Jean-Louis' husband with Barclays officials after they were presented with their travel documents.