Inner islands artists in the limelight at Kenwyn House
02-February-2013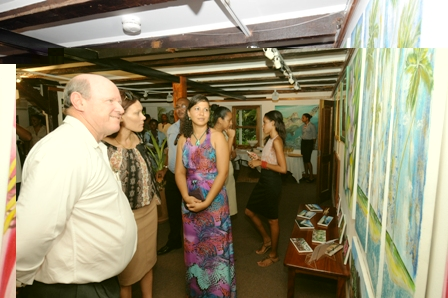 Guests admiring the paintings on display after the launch ceremony
Entitled 'Islanders in progress', the exhibition is made up of paintings from artists Rita Morel, Birgitt Waye-Hive, Chantal Rose, Allen Barreau, Cyril Jean, Jeff Lesperance, Daryl Kichner, Alain Marie, and Jude Decomarmond.
Using various medium such as acrylic, oil or ink on canvas -- sometimes a mixture of all those – the artists bring their work to life, while some even use colour pencil on paper.
The exhibition was officially launched recently by the Minister for Tourism and Culture Alain St Ange, who re-affirmed his ministry's commitment to supporting local artists.
Kenwyn House art curator Isa Laurencine told Seychelles Nation that they plan to have around six exhibitions per year, and that they started with the inner islands artists because they simply had been ready when approached.
"Last year we had Camille Mondon in October, now we have the inner islanders and we will then move on to other local artists, such as Eveline Fanchette who will exhibit here in March and this is all in our quest to give local artists their due exposure," she said.
"This group is led by Rita Morel, who is also already showcasing her work in our gallery here, and didn't hesitate to bring in other inner islands artists who were up for the event. We believe that our local artists have so much to give and by offering them the chance to showcase as a group – as opposed to exposing them one by one ¬– we give them equal opportunities to show their work to the public in a more convenient manner."
Guests were able to tour the exhibition afterwards in a more light-hearted moment, and had many questions for the artists who were only too happy to explain their work and inspirations.
All the paintings are for sale, with prices ranging from R1,500 to R25,000. Some paintings can also be bought in a set of three for a wholesale price.
The exhibition will remain open until February 8, after which it will be replaced by the permanent expo of the Kenwyn House, which is made available to the public all year-long and is only pulled down for expos such as the inner islanders.
I.H.