School aims to gain time lost during disaster closure
05-February-2013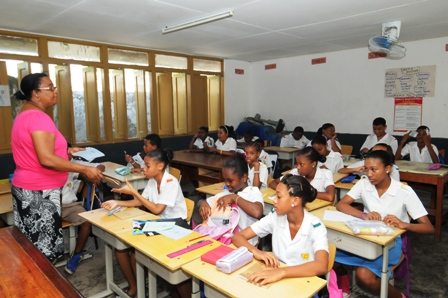 Its head teacher Gina Labiche said this during an interview with Nation yesterday after the school's 800 students returned to the school premises which teachers and volunteers cleaned and disinfected after the disaster, which affected Au Cap, Pointe Larue and Anse Aux Pins districts.
Mrs Labiche said it is particularly important to have extra lessons for the S4 and S5 students as they are preparing for the International General Certificate of Secondary Education examination.
Appreciating the help the school got, Mrs Labiche noted that besides manpower, they also got material support from organisations like the Denousse & Sons construction company and E-Pearl Cleaning Agency.
She said the builders replaced shelves and some equipment in the laboratory which were damaged by flood water.
"The cleaning agency used disinfectants and hot water when cleaning, which they did at no cost," she said.
Many homes, businesses and farms in the three districts and the school were affected by flooding or landslides after heavy rains broke the 397mm mean for January in just a few days.
Pointe Larue district suffered extensive flooding for three days forcing closure of the road that links south east Mahé with Victoria. Vehicles were forced to detour through the La Misère road which was itself at times blocked by landslides and also suffered traffic congestion.