Earth-cutting ban in force
06-February-2013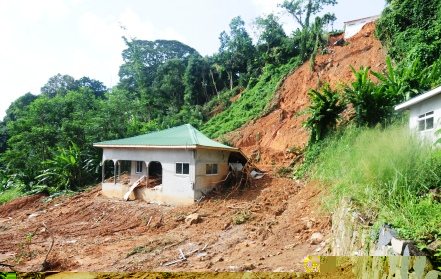 Talking about the decision to impose the ban, the chief executive of the Planning Authority Gerard Hoareau said this week the main reason is that the weather condition at present is not favourable according to forecasts from the meteorological office.
He said following inspection exercises in the four most affected districts – Cascade, Pointe Larue, Anse Aux Pins and Au Cap – following the recent severe weather conditions, and in other areas, it has been observed that people are cutting away at hillsides making way for their development with very little or no attention to regulations as specified in their planning permission agreements.
He said the decision to impose the ban has been made in collaboration with the department of environment and during the ban period the concerned authorities will assess and take stock of the earth-cutting situation around the country.
"This will help the authorities identify areas where public education and awareness would need to be reviewed,'' said Mr Hoareau.
Noting that there are a number of sites where earth-cutting had just started but now has to be put on hold because of the ban, Mr Hoareau said the planning authority is in touch with the people concerned to assess the work already carried out and see if the stage reached will not pose a threat in itself if stopped at this point in time.
"People who feel that stopping any earth-cutting process will be potentially dangerous should contact the Planning Authority or the department of environment for advice and to find the best way to dispel any potential fears or threats," added Mr Hoareau.
He said the Planning Authority will start a review of all planning permissions already approved and explore the different areas to see if there is a need to impose stricter conditions.
Mr Hoareau said it has been observed that earth-cutting at several sites has not received any planning permission while at the same time many people are using excavators for this type of work and this also is in many cases not necessarily being done in the proper way.
"It is unfortunate that many people being contracted to do this type of work in many cases do not have a notion of what it entails and therefore they cannot advise the clients who in turn are relying on them to carry out a job which they also do not know much about," said Mr Hoareau.

He added that in many cases people are just interested in having their property cleared for a development and are not interested in its environmental impact until disaster strikes.
Mr Hoareau stressed that all planning permission encloses a clause which states that prior to any earth-cutting work the Planning Authority should be alerted but this is not being respected in many cases, making it very difficult for enforcement officers to be present.
He also noted that apart from taking a long time to get an approved project started after a planning permission has been granted, people are also not submitting the required commencement notice 48 hours to the start of their project, thus making it difficult for the Planning Authority to carry out the required monitoring of the development projects.
"Strict conditions to be followed are always highlighted in all planning permissions but people are just disregarding them," said Mr Hoareau.
He stressed that people should respect the conditions of their planning permissions to ensure that enforcement officers are present when any earth-cutting work starts. With over 2,000 planning permission granted every year and people not respecting them, he said the authority has a difficult task to deal with. He noted that the authority is also in the process of recruiting more Seychelles Institute of Technology (SIT) graduates as enforcement officers to reinforce monitoring of ongoing projects.
Meanwhile, the director general for wildlife, enforcement and permits division in the Ministry of Environment and Energy, Flavien Joubert, has said with weather conditions being unfavorable for further earth-cutting process to carry on, together with the Planning Authority they will continue to monitor the situation.
He noted that all environment condition permits being issued enclose a note stating that permission has been suspended until further notice.
Mr Joubert said the state of different sites where earth-cutting has been under way during the recent bad weather has prompted the decision for the ban.
"If we leave the situation as it is we will be encouraging people to do more harm than good," said Mr Joubert.
He noted that in a couple of weeks it is expected that the weather situation would stabilise and the ban will be reviewed.
With regard to more public education on environmental aspects to be taken into account when cutting into hilly terrain for construction projects, Mr Joubert noted that the experience of the past week has highlighted the need for a reinforced joint public information awareness and education campaign with the Planning Authority.
"There is a need to step up public education on different aspects to take into account when undertaking earth-cutting projects. Information has been given but people need to be reminded of all the important measures again and again," he added.
Mr Joubert further noted that among the greatest mistakes people make when undertaking a project is the way they channel water.
"We aim to step up information to architects and draughtsmen to ensure they are also aware of environment protection measures as clients look up to them for advice," said Mr Joubert.
He noted that the division is in the process of upgrading different aspects of its monitoring and these include introducing a digital and more comprehensive monitoring process which expects to increase and improve the quality of monitoring.