Notting Hill Carnival of London heading to Seychelles' carnival
06-February-2013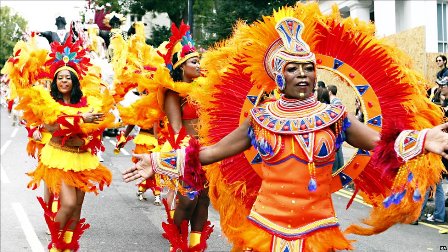 The Notting Hill Carnival Roadshow Company will return for the third Carnaval International de Victoria from February 8-10 and this year, in addition to performing, they will be teaching their unique skills to the people of Seychelles.
During the workshops with young people of Seychelles, they will teach them about the origins of carnival, showcase the evolution and performance of the carnival arts, encourage them to take part in their own carnival and guide each individual on how best to showcase their own creativity and culture.
The ambition of the group from London is to leave a lasting legacy in Seychelles for the community and to help the younger population of the islands to establish their own carnival identity.
This year's Notting Hill Carnival Roadshow Company cast will comprise three masquerade groups – BeeRaaHaar Carnival Club, Flamingo Carnival Arts, and Mahogany Carnival Arts; one samba group (Paraiso de Samba) Ruff Diamond Soca Dance; one steel band gig side from the Caribbean Steel International and one DJ, Antonn.
There will be 40 individual performers, each one with a role to play to ensure that the carnival arts are displayed to perfection.
The Roadshow will also be accompanied by the internationally renowned photographer Kiki Nortey whose photographs of the carnival are sure to excite everyone. Each one of the groups is the best in their fields and has won the top awards at Notting Hill and other carnivals across the United Kingdom and internationally.
Unfortunately, due to limited space, Notting Hill Carnival has only been able to bring a small section of each group, but they nevertheless will create a spectacle to be enjoyed.
Claire Holder, chairperson of the Notting Hill Carnival Roadshow Ltd, said: "We are so excited to be coming once again to Seychelles where we are made to feel most welcome. This year we hope to do more to engage with the people of Seychelles and the region to contribute to what has become a truly fantastic and remarkable experience and celebration of the beauty of Seychelles and its people."