World Trade Organisation team calls on VP Faure
09-February-2013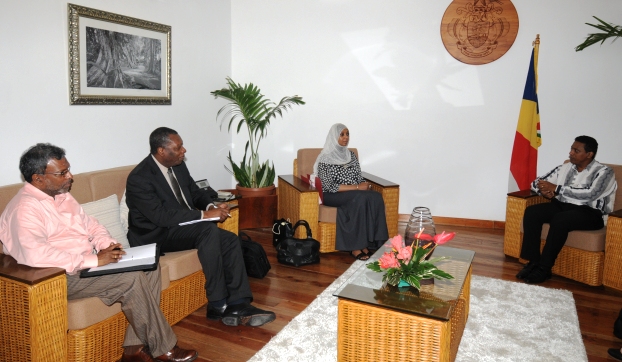 The delegation, who is on a two-day visit to the country, is headed by the deputy permanent representative of the Sultane of Oman to the WTO Hilda Al-Hinai.
Speaking to the media after the meeting with VP Faure, Mrs Al-Hinai described the discussions they had as "good and productive".
Through these discussions held, Seychelles' commitment to conclude its accession to the WTO by 2014 was confirmed and stressed upon, she added.
"This is a very encouraging sign and we are going to work very hard with the negotiating team in the next few months to make sure that this objective is achieved," she said.
Mrs Al-Hinai said accession to the WTO is a criteria that any foreign investor looks at before they invest in a country.
Apart from Vice-President Faure, the WTO team met ministers for Finance, Trade and Investment, Foreign Affairs, Employment and Human Resources Development, and Natural Resources and Industry.
Chief negotiator for Seychelles' accession to the WTO, Charles Morin, said the team's visit aimed to update the government on the progress being made with regard to this process.
Discussions also centred on what has been achieved so far in those negotiations and suggestions on what can still be done.
The WTO team also met the Speaker of the National Assembly Dr Patrick Herminie, leader of the opposition in the National Assembly David Pierre and member of the National Assembly for Cascade Charles De Commarmond.