Carnival to be aired on CNN
09-February-2013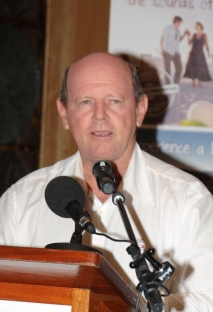 Minister St Ange addressing guests and media personnel on Thursday night
This was during a press conference on Thursday night at the Constance Ephelia Resort at Port Launay which offers guests luxurious suites and villas overlooking the Indian Ocean.
Media teams from host country Seychelles, Hawaii, China, Zambia, Zimbabwe, Reunion, Madagascar, and Mauritius were present for the press conference during which Tourism and Culture Minister Alain St Ange said they are working in close collaboration with US cable news channel CNN (Cable News Network) to air the Carnaval International de Victoria.
Minister St Ange explained that raw footage of the carnival will be sent to CNN which will then edit and broadcast.
Guests at the conference included Foreign Affairs Minister Jean-Paul Adam, Health Minister Mitcy Larue, and Natural Resources and Industry Minister Peter Sinon.
The carnival was officially opened last night during a ceremony at the International Conference Centre.
Today, local and international floats will parade along the streets of Victoria as from 3pm. From Roche Caïman, the local and international floats will take the following routes – Bois de Rose Avenue, Francis Rachel Street, Albert Street, Palm Street, and 5th June Avenue where the carnival parade will end.
There are three earmarked stopping points for the carnival floats this year – the VIP area in front of the National Cultural Centre building, the judges' box in front of the Supreme Court building opposite the clock tower, and by the Orion Mall building on Palm Street. Each float will be given a maximum of two minutes at each stopping point to showcase their performance.
On Sunday, there will be the carnival fun day at the Freedom Square.