Partners seek ways to boost social renaissance initiatives
11-February-2013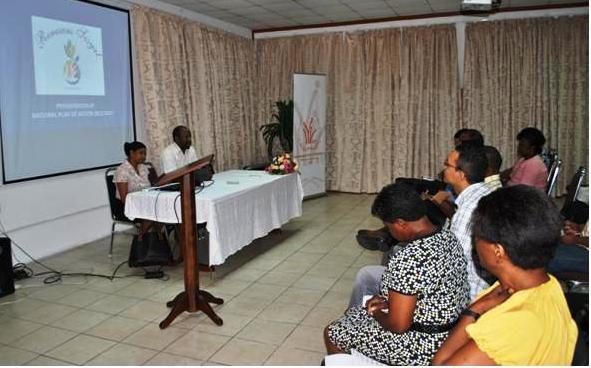 "The disaster experienced by our country has shown us how through unity in our society and solidarity among our people, we have come together in this time of adversity to give each other a helping hand," said Mr Meriton, who is the Minister for Social Affairs, Community Development and Sports.
Minister Meriton stressed that it is this kind of spirit which we need to continue to maintain, nurture and spread among our people so as to continue fostering a strengthened relationship between all sectors of our society.
Thursday's session discussed and considered different social renaissance initiatives in greater depth, with an overview of the defined plan of action. This was followed by extensive discussions.
Those taking part discussed how non-governmental organisations' (NGO) actions and interventions can make a difference in various aspects of development.
"There is a concerted effort and a strong desire on the part of both government and Lungos to coordinate their efforts and collaborate in a more effective manner. NGOs are very active partners and play an important role – either through their operations or through advocacy work in national development," said Mr Meriton.
The newly-elected board of Lungos, chaired by Marie-Nella Azemia, is receiving the support and expertise of previous chairpersons Dr Nirmal Jivan Shah and Bernard Elizabeth.
Currently there are 56 associations operating in sectors ranging from socio-economic, environment, health and social welfare, to gender issues, human rights and democracy.
The partners have agreed on the need to ensure that the positive relations which exist between them continue to strengthen and together with the Seychelles Inter-Faith Council (Sifco) they will lead a component of the plan of action targeting personal responsibility and promoting healthy Seychellois families.
"We need to realise that we all have the power in our hands to touch the lives of others so as to bring a change for the better," said Minister Meriton.