Exhibition showcases vital link between plants and our lives
11-February-2013
Entitled 'Our lives depend on plants', the exhibition is on display at the Natural History Museum until February 14, after which a slightly reduced version will travel to each of the four main regions of Mahé, being based in a selected district for a further 1-2 weeks in each region.
The organisers have said that it will however be not possible to take the exhibition to Praslin or La Digue.
Background
The exhibition forms one major outcome of a collaborative project between the non-governmental organisation PCA and the Natural History Museum. This project is commonly known as 'The Herbarium Project' and is receiving its major funding from the GEF Small Grants Programme.
Through this project the National Herbarium has been considerably upgraded, through acquiring new equipment and materials, training a number of young local scientists in plant and ecological research (with additional funding from the Environment Trust Fund), increasing the number of reference plant specimens in its collection and creating a digital database of all the plants in Seychelles (around 1,700 species).
A photo competition held in 2012 led to members of the general public contributing a large number of plant photographs to the herbarium, many of which are now in a digital 'Seychelles Plant Gallery', which will eventually be available to everyone online at a dedicated website. This plant gallery will be demonstrated as part of the exhibition. It allows people to identify plants from photographs and also search for particular groups of plants, e.g. native species, fern species, rare species.
The exhibition has been devised in order to raise awareness about plants and their importance to all of us. Not just the native plants and the rare and threatened endemic species, but also those in the environment around us, those we use in our everyday lives.
"We have tried to create a more exciting learning environment by making many of the exhibits interactive, so that viewers have things to explore with their hands and noses, as well as looking at things from unusual angles or closer than they might usually do so," a spokesperson for the organisers explains.
"They can answer questions about exhibits as well as just look and read. And these kinds of exhibits are not meant for children alone - they are fun for adults as well. In addition, there are some special plant activities for kids in the children's corner of the museum," the spokesperson adds.
The exhibition starts with a very simple question. It then follows a set route through five themes with interactive exhibits interspersed with colourful posters:
1. Our lives depend on plants
2. How forests help us
3. Discovering more about plants
4. Knowing our plants
5. Our green insurance policy
It ends with perhaps a bit of a fun surprise.
There is some printed material available for free (or with a small donation towards PCA's continuing work with the herbarium) and there are also a number of items for sale.
Entry to the exhibition is free for residents.
Our selection of photos show visitors viewing the exhibition after it was officially opened by principal secretary for culture Benjamine Rose.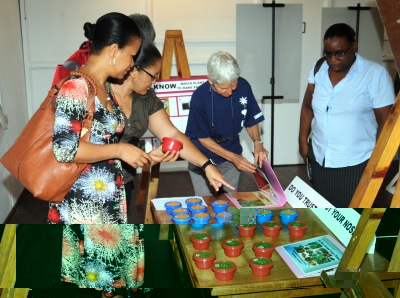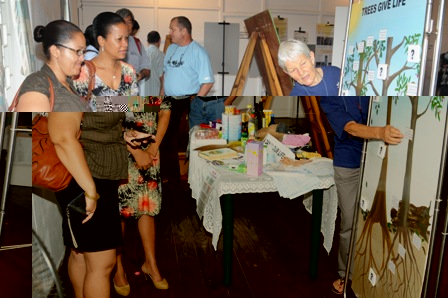 Contributed