Up Close with … André Sinon, art teacher at the School for the Exceptional Child- 'Disabled pupils have artistic potentials too'
12-February-2013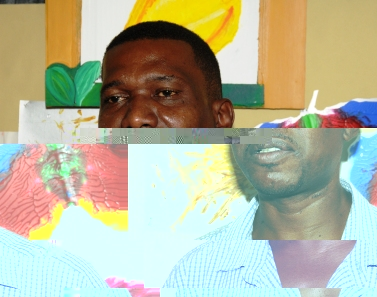 Meeting him some time back when the pupils were busy tidying up just before the December holidays, André did not hesitate to spare some time to show me around the small classroom in which he has imparted his artistic skills to a number of pupils over the years.
It is not a large room but it is homely though sparsely furnished with the basic classroom furnishings and in one corner are stashed the limited resources used by the pupils while some of the finished paintings naively adorn the walls.
"We use a lot of recycled material here mostly containers for the pupils to mix their paint in,'' said André.
Education and training
Before taking up teaching at the School for the Exceptional Child, André was a teacher at the Grand Anse Mahé primary school, but only for a very short spell. After asking for a transfer he was offered the present post where he still is some 17 years later.
An inhabitant of Les Mamelles, André attended school there before spending two years at the now defunct National Youth Service and later went to study arts for three years at the School of Art and Design.
Today André lives at Roche Caiman.
Recalling the start of his teaching career, André has some very unpleasant memories. At that time, freshly graduated from his training, he did not follow any teaching practice but went straight to the classrooms instead and this was a very daunting experience for him.
"It was really a lot for me to handle and I felt that the amount of work I had to do, the number of pupils I had to handle was too big a challenge all at once. With no teaching skills and experience, I felt I needed time to digest everything and that was when and why I decided to ask for a transfer," he said.
André stressed it was not that he cowered when confronted with the task ahead but it was just that he did not have any experience to cope with what he was being asked to do.
André recalled that he jumped at the opportunity to work with the children at the School for the Exceptional Child.
"They are a different group of children and they are special with their different level of understanding and the fact that there are not as many of them makes it easier to work with them," André said.
While lack of discipline and antisocial behaviour is rampant among pupils in ordinary schools, André is thankful this is not an issue at the School for the Exceptional Child.
"There are issues related mostly to their disabilities," he pointed out.
André was not new to people, especially children, with disabilities - having previously often taken part in different activities the association for disabled people organised for them.
Over the years while pursuing his career teaching disabled pupils how to develop their artistic skills, André took it upon himself to follow a certificate and diploma course in his favourite subject which is art, as well as other small courses in several other aspects of self-development and skills improvement and fulfillment, including learning the local sign language.
André recalled that at the beginning all pupils with disabilities -- including those with hearing impairment -- were put together, until the recent opening of a school especially for them at Au Cap.
André is the only arts teacher at the school and he has in a class a maximum seven pupils and they are aged between five and 15 years.
Experience and challenges
Looking back after so many years working with pupils with different levels of understanding and some with physical and other forms of disabilities, André said his greatest joy is when the pupils succeed even after several attempts to accomplish a piece of work.
"You help them and they try their hands at it once, twice, a third time and even a fourth time before they manage and their joy as well as yours following this hard-won achievement is so fulfilling," André said.
André believes that working with disabled children is a task many people will not be comfortable with and will not find easy to handle at all and this is why the enthusiasm, love and joy to teach disabled pupils is something which should come from within a person.
For him it is more than just teaching those pupils how to draw and mix paint.
André admits that even though he derives great joy and satisfaction in the work he does, the most important qualities required is patience and tonnes of it for you to go by every day.
"If you do not have patience and if you do not love those children and feel for them like your own and devote yourself to transform them and make them succeed, there is no way one can spend so many years teaching them and trying to bring out the best which is in them," he said.
"I feel I am more than just their art teacher but their friend and the person they can easily talk to and in some cases share their innermost feelings and thoughts with," André said.
And the same goes for the other teachers and members of staff who care for the pupils at the school.
Married for three years now after being in the relationship with his partner for over 14 years, André has no children of his own.
"But I adore children and I have a lot of love to give so I consider the pupils I teach as my own," he said.
While the small group of devoted teachers, other members of staff and some parents are doing their best to help these pupils, André is convinced there is still a lot of room for more help and support from the Ministry of Education and other related departments and non-governmental organisations and individuals.
"These pupils need a lot of support, encouragement and acceptance and they need to feel that they are part of society, an area I feel a lot more needs to be done to make that a reality," André mused.
Striving to be recognised
During the years he has been working with the special pupils, André has among his goals to ensure these pupils' works and talents are recognised and considered along with those of their normal counterparts.
"The paintings the pupils produced are entered in different competitions and I always see that every year there are new creations to display during the school's open day," André explained.
He noted that the pupils' potentials should never be underestimated.
"They all have talents and on different occasions and in different areas they have displayed those but they need a lot of support, resources and people with the right skills to urge them on," he observed.
He said it would be very encouraging if the pupils are included in all national competitions as much as possible as this is an opportunity for them to show their artistic skills.
Past times
Not good at any sports, André is a person who likes to discover new things and this through reading mostly.
"I like to read material related to my field of work and for me I always want to keep myself abreast of all the latest innovations for disabled people in all aspects but mostly of course in what I do," he said.
Music is also another of his passion and André said he can listen to music and watch television at the same time.
"I enjoy most genre of music but mostly songs with a moral, those which pass on a message," said the young man.
With regard to television André does not have a particular preference for any programme but enjoys watching anything which is entertaining, educative and informative.
"This is how I am, I like what I deem to be good," he stressed, noting that this applies to everything else in life.
André also enjoys cooking especially during weekend when he gives his wife a break from the kitchen and other chores around the house.
The young teacher who also likes to try his hand at a little gardening regrets the fact that he does not have enough space for that, since he is occupying an upstairs flat. But all the same he ensures that he has one or two chilly plants for his own use carefully planted among the usual decorative plants adorning his verandah.
Plans for the future
André, who likes his job very much, sees himself continuing to help the pupils.
"I enjoy what I do very much but I believe with more support and skills which I am hoping to achieve for the future I will hopefully bring the exceptional pupils to another level in their artistic development but I need a little more support to make that happen," he said.

by Marie-Anne Lepathy