Soroptimists of Victoria presents R50,000 to Centre d'Accueil de La Rosière
15-February-2013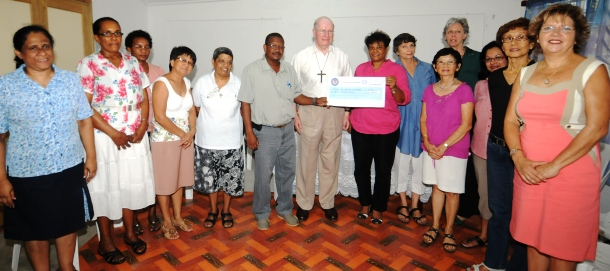 The donation was presented by Soroptimist International Club of Victoria chairperson Erica Naidu to Bishop Denis Wiehe in the presence of the assistant director of the Centre d'Accueil de La Rosière, Gerald Julie and other staff, as well as other prominent soroptimists.
The centre, situated behind the L'Imprimerie St Fidèle and which came into being in 2009, has been extended and is now large enough to accommodate some 12 girls. Another centre at La Misère can cater for a similar number of boys.
But, both buildings still have to be properly equipped and needed furniture among other things. A recent setback, Bishop Wiehe said was during the recent heavy rains which caused a wall to collapse.
Besides Mr Julie, the centre has a staff of six, including a counsellor, Sister Alice from Mauritius.
Mr Julie explained that once patients are stabilised, re-insertion involves several stages, including preparation and day care, which is done on a non-residential basis, and rehabilitation which is residential and can take up to 12 weeks.
He said patients are encouraged to lead new lives within their communities and increasingly, there is a need to work with parents to re-establish trust within the families affected.
Mr Julie noted that drug addiction is a chronic illness and every day is a struggle to heal.
"It is very difficult, but not impossible," he said, adding that relapses are not uncommon.
Sister Alice said that for patients suffering relapses, the doors of the Centre d'Accueil are always wide open should they wish to come back.
The Soroptimist International Club of Victoria, now operating since 19 years, is a group of women committed to helping the communities.
Recent help has been to the St Elizabeth Convent, where it helped with water tanks and revamping of the bathrooms. It has also recently helped the Foyer de Nazareth orphanage at Anse Etoile and the Cancer Concern.
The Soroptimists raise funds by organising lotteries, bring and buys, and other social activities.