Seychelles joins world fight against hunger
15-February-2013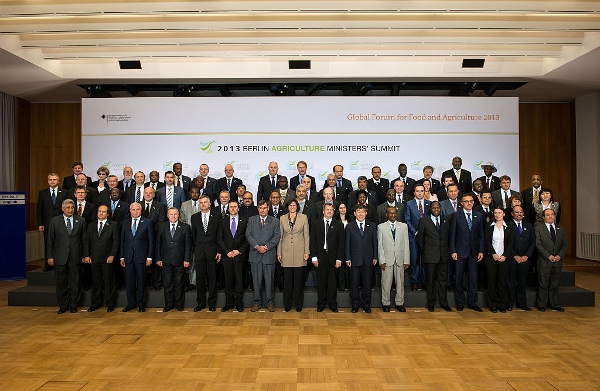 Seychelles' Minister for Natural Resources and Industry Peter Sinon took part in the summit at the invitation of the German Minister for Food, Agriculture and Consumer Protection Ilse Aigner and the chairman of the United Nations Committee on World Food Security, Yaya Olaniran.
Minister Sinon was accompanied to the summit by his senior advisor Antoine Marie Moustache.
The forum this year was held under the theme 'Responsible investment in the food and agriculture sectors – A key factor for food security and rural development'.
Responsible investment in agriculture, meaning investment in the entire value-added chain of the agricultural sector for enhanced food security and sovereignty, was among the main issues debated at the forum.
This covers agricultural production itself, the processing and marketing of the products, as well as training and advice in all areas.
Emphasis was also placed on giving much attention to these areas to ensure that these investments drive sustainable economic development after a prolonged period of decline, while at the same time taking into account the interests of smallholders, women and the young rural generations.
Furthermore, responsible investment must enable these groups to share in the generated profits, thereby reducing poverty in the world's rural regions.
The ministers acknowledged that the capital required to develop a sustainable agri-food industry for global food security should be directed towards agro-productive rural areas while responding to the needs of the local population.
It was highlighted that essential prerequisites for this process are political stability and a commitment to give appropriate priority to agriculture.
In this way, responsible investments can ultimately make an important contribution to social stability, conflict resolution and peace-keeping.
The Agriculture Ministers' Summit was the political highlight of the 'Global Forum for Food and Agriculture'.
It was an opportunity for Minister Sinon and Mr Moustache to engage with potential partners and update them on the progress of the CAADP processes underway in Seychelles, the progress in formulating the 'Seychelles National Agricultural Programme' (SNAIP) and the funding process which will follow its completion and presentation.
The strategic networking and contacts made is expected to ensure a more successful mobilisation forum for the mentioned process later this year.
In the summit's final communique, the agriculture ministers, representing almost five billion people -- which is roughly 70 percent of the world's population – emphasised the special importance of responsible public and private investment in agriculture.

Minister Sinon ensured that the specificities of Small Island Development States and the CAADP process are both recognised and highlighted in the final communiqué.