Paris-based STB office take part in three trade fairs
16-February-2013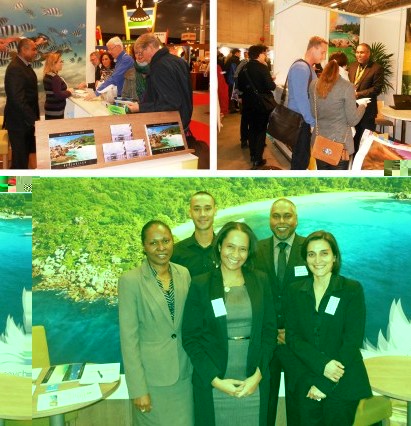 The trade fairs took place in Vakantiebeurs, Utrecht in Holland from January 8-13, 2013. The fair was attended by 102,393 visitors and Seychelles had an 18 square metre stand.
The delegation was also made up of two trade partners from Seychelles – Beachcomber Sainte Anne Resort & Spa and Coco De Mer Hotel.
The first day of the fair was a platform for all trade partners to meet and discuss the future. The STB had several meetings with their main tour operators and also Emirates to discuss joint marketing plans for this year.
In Matka in Helsinki, Finland, the event registered 76,477 visitors in total and was held from January 16-20 and ASTB's stall measured 9 square metres.
L'Archipel Hotel and Coco de Mer Hotel from Praslin were also represented.
The trade fair Salons Vacances in Brussels, Belgium, was held from January 31 to February 4. There was quite a large trade partner delegation, namely Banyan Tree, Coco de Mer Hotel, L'Archipel Hotel and Seychelles European Reservation.
Overall, all three fairs were very successful with the STB receiving many visitors at its stands which were very busy on most days.
The visitors were very interested in learning about Seychelles, particularly those who are in the process of planning their trip here this year. There were many requests for honeymoons and also for diving.
Some tour operators even produced several offers and packages for Seychelles which were distributed at the stands of the Matka and Salon Vacances fairs.
In general, Seychelles is becoming more and more known in these two regions and our presence in these fairs is very important to continue increasing destination awareness, gaining new contacts and generating more business in general.
These three fairs are the largest of their kind in these regions and as a result they are very popular with consumers.