Hope for diabetic foot ulcer patients-• Thanks to Cuban research
18-February-2013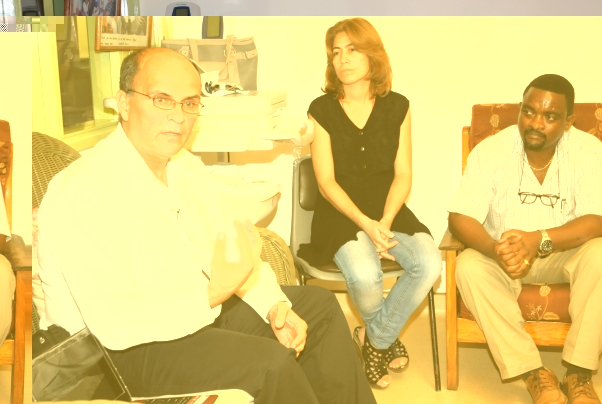 A scientist from the centre, Dr Manuel Raices Perez Castaneda was in Seychelles for two weeks for a demonstrative trial of intra-lesional injections on ten patients -- eight men and two women -- to evaluate the therapy here.
On Friday, he showed the press photos of marked improvement in the conditions of all patients, some of whom have suffered from diabetic foot ulcers, for as long as ten years.
In all instances, there was marked healthy granulation of tissue and healing prospects look good.
Dr Perez Castaneda insists however he was only the consultant and the therapy was conducted by Dr Neobalis Franco, a Cuban vascular surgeon and angiologist working in Seychelles, under the supervision of Dr Henry Telemaque, Consultant in Charge, Surgery Department.
Mr Perez Castaneda first came to Seychelles in July 2012 for an assessment of the Seychelles health situation, especially regarding diabetes.
This follows a request for increased technical assistance for the Health Ministry made by President James Michel during a working visit to Cuba in 2010.
Dr Perez Castaneda, who met Health Minister Mitcy Larue and principal secretary Veronique Laporte, said he found the ministry to be well organised, but that diabetic patients needed assistance, as too many of them were being amputated.
His method involves injecting into the wound a molecule called "Heberprot.p. cigb", normally found in the saliva of healthy persons.
This is normally done on alternative days and the patient's response is crucial within the first two weeks. If the patient responds positively, the treatment continues for an average five weeks.
In extreme cases, such as gangrene, the condition may require up to 30 injections to produce results.

Dr Perez Castaneda noted that in instances where there is bad blood circulation, treatment takes longer.
He said the therapy has been tried in Cuba since 2001 and since 2006, 43 major hospitals and close to a hundred clinics are using it. It is now being used in 15 other countries, notably Venezuela and Brazil.
Dr Telemaque cautioned that though the trials were free, the therapy is rather costly and Seychelles will be expected to fund it. He said the situation will be assessed from a financial standpoint as the Health Ministry may require an extra budget to fund the therapy.
Dr Perez Castaneda said that he expects that an average 300 diabetic patients with foot ulcers may require the therapy every year.
He noted that though the therapy is not cheap, the benefits besides healing patients are great.
"Fewer amputations mean that more people lead productive lives," he said.
It also means significant savings, a paying for carers and pensions for persons who become severely handicapped can also constitute a severe strain on the country's economy.