Christmas & New Year promotion sales -Pillay R Group rewards Lucky Draw winners in style
18-February-2013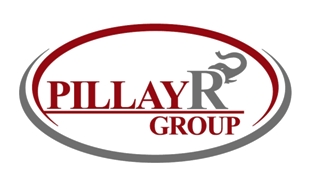 A total of 15 businesses in the Pillay R Group of companies teamed up to make this first promotion sale and Lucky Draw a success and out of the 15, four of the shops were on Praslin, something the company considers as very encouraging and a great achievement as it is the first time in the history of Seychelles it has been organised under the umbrella of Pillay R Group.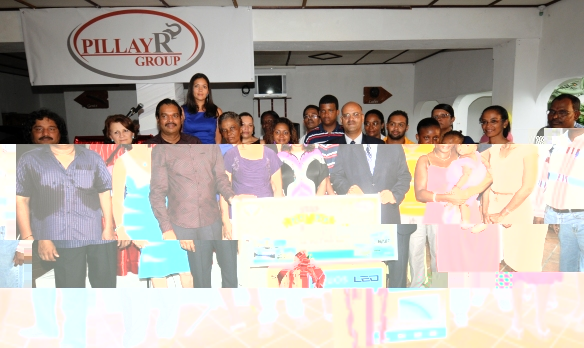 The promotion ran under the theme 'Shop, Save, Win & Fly'.
Attending the prize giving ceremony on Friday evening at La Palm Residency Hotel at Anse Etoile were the happy winners, chairman & chief executive of Pillay R Group of companies, Ramakrishanan Pillay (Ramu); Francois Rose, managing director of Cash Plus; Rajesh Pandya, managing director of Ascent Projectors; Monica Dine, Group administration manager; and staff of the different businesses from the group from IT Electronics, Fast Moving Supermarket Goods among others involved in the initiative, and other guests who included elected National Assembly member for Plaisance, Roma Aglae, among others.
There were altogether seven interesting prizes to give away and they ranged from four airline tickets to Mauritius/Dubai /South Africa and France, Apple I- Pod, Sharp 32 inch LED TV to Lenovo tablet.
The lucky winners for the draw were chosen during a first draw which was held earlier during the week at the different shops -- where all the draw boxes from 15 retail outlets were brought together.
The first shops to choose a winner were those closer to Victoria and these were Itech Computer Service and Life Style on Revolution Avenue, Orion Computers, Life Style Unity House, Sales Point at Market Street, Ramajayam Shopping Point at the Victoria petrol station and Raha Shopping Centre at Pointe Larue was the last one to do so.
Truly, it was a unique way to organise a draw for the first time in Seychelles by any business house.
All the shop managers, members of their staff and customers present in the shopping centres at the time were eager to come forward and randomly pick a winner.
Customers are true business partners
"The aim of such an initiative was to revolutionise the way business is done in Seychelles and to ensure customers are treated as real customers and as true partners, Pillay R Group purchasing & global sourcing manager D.V. Sharma said.
"At Pillay R Group we value our customers a lot and we strive to let them know that," he said.
Mr Sharma said he believes the company has, through the initiative, succeeded in achieving its objectives and this is clear through the number of customers who qualified for the lucky draw. He added that there was an unbelievable response in all outlets.
"Customers are from all walks of life and all the different shops from the group of companies have recorded remarkable increases in the number of shoppers who came in and out of their various shops especially during the festive season,'' noted Mr Sharma.
To make the event interesting the company also invited local artists like Joenise to perform while those present sampled a variety of tasty dishes.
Managers and staff of the different businesses from the Pillay R Group were also available to answer queries and questions on different products the company imports and services it provides.
"Such information is important for customers to start believing that we are in the age of brand building and not just selling the products," Mr Sharma added.
Lucky Draw initiative proof of unity in business
Organising the Lucky draw was not an easy venture but Mr Sharma noted its success is proof of the unity which reigns between the different shop managers from the group of companies which have all worked together to ensure the lucky draw to reward the customers become a success.
"Teamwork which is very important in business is our priority in the company and we all support each other. Our aim is to continue to do so at all times," said Mr Sharma.
Mr Sharma said the company is very much encouraged by the enthusiasm shown by customers on Praslin who have equally taken part in the Lucky Draw in great numbers.
Mr Sharma noted that in spite of tough competition which exists among the ever increasing business community, the company is very optimistic for the future.
"The important thing in business is to have a business model which works, unity among business partners, ensure good quality products at all times and maintain affordable prices to foster customers' trust and confidence," Mr Sharma remarked.
Pillay R Group CEO congratulates winners and thanks customers for their support
At Friday's prize-giving ceremony Pillay R Group CEO Ramu Pillay congratulated all the lucky winners, expressed his heartfelt gratitude to all faithful customers and thanked all the devoted people in the group of companies who have made it all happen.
"I thank you all for your invaluable support. There is no business without you customers and I want to let you know that," said Mr Pillay.
"We hope that we can continue to count on you in the future," Mr Pillay added.
Mr Rose of Cash Plus also shared his appreciation for the Pillay R Group chief executive's vision, dedication and commitment which has resulted in the growth of the company, in existence for more than 160 years in Seychelles.
The lottery winners
- Ezra Alcindor -- a baby, only a few months old from Praslin -- won a return ticket to Mauritius
- Julian Labrosse, also from Praslin, won the Apple I-Pod.
- Lucille Elizabeth, who works at the Seychelles Public Transport Cooperation (SPTC), won the return ticket to Dubai
- Herald Elizabeth from St Louis won the 32 inch Sharp flat screen TV set
- Josianne Fabien won the return ticket to South Africa
- Fabien Adrienne won the computer tablet
- Anne-Marie Rath of Les Cannelles won the return ticket to Paris.
All the winners, except Julian Labrosse & Anne-Marie Rath, were present to receive their prizes.
Claudia Vidot, assistant manager – customer services & sales from Hunt Deltel – collected the prize on Mr Labrosse's behalf. However, as soon as one of the guests informed Ms Rath about this great news, she was very excited to receive it and promised to come and collect it the following day.
Compiled by M-A.L